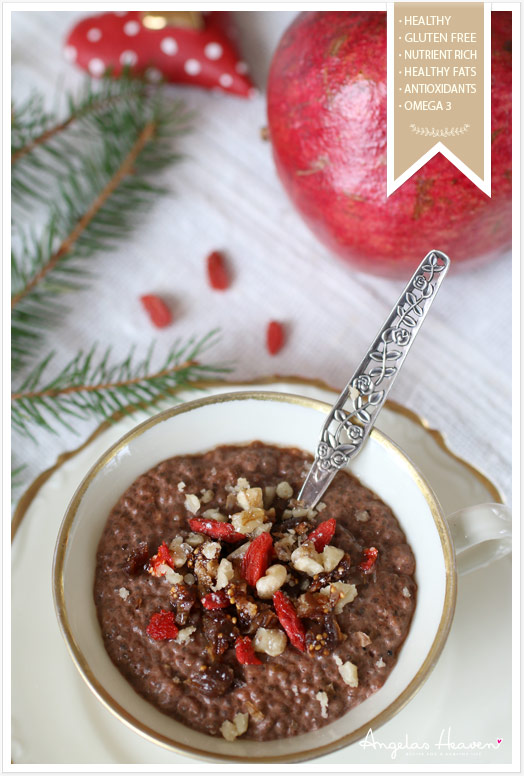 Chia pudding has been my favorite breakfast and to go snack the last couple of weeks. It's so easy to make, you can vary the flavors and it's easy to take with me to work or as a breakfast on-the-go. Just stir in chia seeds in your favorite milk and add any flavor you like. You can use mashed bananas, chocolate, vanilla, berries, cinnamon…anything you like.
I usually use my homemade nut milk or coconut milk. If you ask me homemade nut milk tastes so much better than the ones you buy. If you haven't tried it before – try it! It will make your chia pudding delicious. The second best thing is coconut milk and I always use extra creamy coconut milk, no light products.
My breakfast today was chocolate chia pudding with creamy coconut milk and goji berries. It is so good. Almost like chocolate pudding and it keeps me full all morning long. Chia is high in fiber, healthy fats, protein, calcium and antioxidants. One serving of this chocolate chia pudding actually contains more omega3 than one serving of salmon.
There are lots of ways to use chia seeds. Put them in your smoothie, in bread, granola or mix berries with them and you will have a nice creamy jam.
If you want your breakfast to be ready when you wake up -just whisk together all ingredients and put it the fridge over the night. If you want to bring the chia pudding with you, pour the liquid in a jar with a lid. Enjoy it the next morning topped with fresh berries, dried coconut, chopped nuts…..
You can also make a big batch and stash it in the fridge. It will keep several days. (if you haven´t eaten it already)
Recipe
1/2 cup cashews
1 cup water
¼ cup chia seeds
½ teaspoon vanilla extract
1 tablespoon agave syrup (optional)
1 tablespoon chocolate powder
Directions
Put the cashews, water, agave syrup, chocolate powder and vanilla extract in a blender.
Mix well until combined.
Add the chia seeds and stir well to avoid lumps.
Pour into two bowls.
The chiapudding is ready to be served in 15 minutes.
Top with goji berries and chopped walnuts.
Read more about the amazing health benefits of chia seeds here. >>
What are your favorite ways to use chia seeds in recipes? Share your recipe in the comment section below.
---
Thank you for visiting my site!
I am looking forward to hearing your thoughts on this recipe. Leave me a comment down below or take a second to share it with a friend.
All the comments are greatly appreciated.