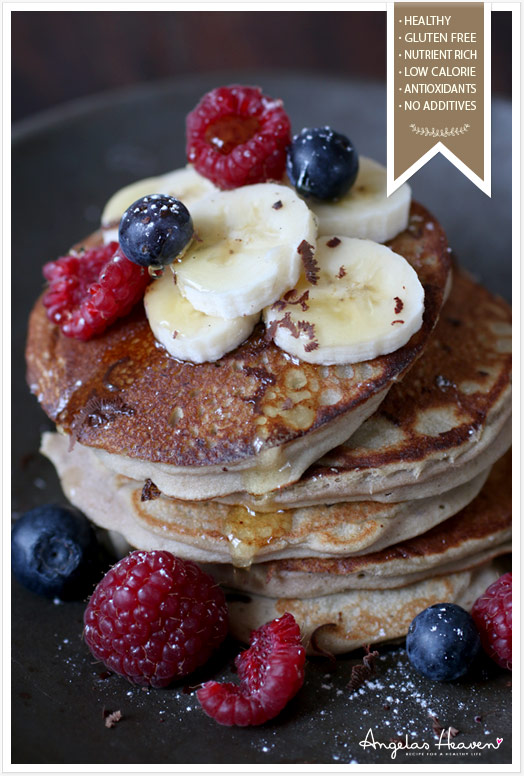 Hi everyone. I hope you had a wonderful Christmas. Here is a totally guilt free recipe for pancakes. They are one of my daughter's favorite breakfast recipes (and mine too).
This is a healthy, delicious breakfast. The pancakes are really easy to make with only three ingredients. They are satisfying, sweet and without gluten or lactose. You can use only bananas and eggs, but I like to include buckwheat flour as well. It makes the pancakes really fluffy, thick and more satisfying without any baking powder.
I have also made breakfast muffins with the same recipe. They tend to become a little dry, but it is a fun alternative if you ever get tired of pancakes. Find the recipe here.
Recipe
2 ripe bananas (perfect if you have brown spotted bananas)
2 eggs
1/2 cup buckwheat fluor
Directions
Mix all of the ingredients.

Heat a lightly oiled frying pan.

Pour some of your batter into the pan and fry on low heat for a couple of minutes until it starts to look golden and firm.
Loosen with a spatula and turn or flip the pancake over. Continue frying until golden.
Serve the pancakes with anything you like. You can have sliced bananas, berries, agavesyrup, cinnamon and apple sauce.
---
Thank you for visiting my site!
I am looking forward to hearing your thoughts on this post.
Leave me a comment down below or take a second to share it with a friend.
All comments are greatly appreciated.