Although this is one of the most common raw food recipes I had never tried it until yesterday when I bought my own spiralizer. It is really easy to make. You just put a zucchini (or any other vegetable) in the spiralizer, turn the handle and out comes beautiful spaghetti noodles.
In this recipe I use the spaghetti raw, but you could also fry them for a little while in some oil and some spices to get a warm dish.
To make the pasta more satisfying and add more protein I added some cashew nuts to the pesto.
After I took this picture I added some black olives and that was a great combination.
If you don't have a spiralizer you could also use a julienne peeler like this one…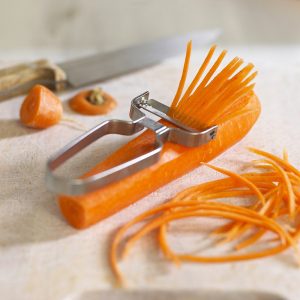 Recipe (US measurements)
1 zucchini
1/4 cup cashew nuts (Preferably soaked in water over night. It is optional, but it makes them more nutritious. Read more.)
3/4 cup pesto
3/4 cup Rucola (this is optional but it adds a very nice flavor and lots of extra vitamins)
Cherry tomatoes
Olives
Directions
If you have soaked your cashews – rinse them and put them in a blender
Mix until it becomes like a smooth butter.
Add the pesto and rucola and mix again.
Make the zucchini "pasta" using a spiralizer.
Put the pasta on a plate together with some rucola.
Add the pesto, olives and cherry tomatoes.
Serve and enjoy!
Other vegetables you can spiralize
Cucumber
Carrot
Sweet potato, yam, other potato
Butternut squash
Beet
Pear
Apple
---
Thank you for visiting my site!
I am looking forward to hearing your thoughts on this recipe. Leave me a comment down below or take a second to share it with a friend.
All comments are greatly appreciated.