Hi everyone! It´s the time of year here in Sweden when we always eat a very special kind of pastry that we call "Semla". Centuries ago when Roman Catholicism reigned cardamom buns were served and were meant to sustain palates about to endure forty days of fasting. At first, a semla was simply a bun, eaten soaked in hot milk, but it has now developed into a cardamom-spiced wheat bun which has its top cut off, and is then filled with filled with whipped cream and almond paste. Today people can hardly wait until February 1st before the semla starts showing up in the bakeries.
I'm in love with this raw food version of the ordinary semlas. I found on Natalie Yonans Swedish blog called "Happy health blog">>.
My whole family is in love with this cute, healthy Semla with the vanilla flavored coconut whipped cream and super easy homemade almond paste… do try them also.
The semle bun
1/2 cup rolled oats
1 cup almond flour
1 tsp cardamom
8 dates
Almond paste
1/2 cup almonds
3 tbsp agave
1/4 tsp vanilla extract
1-2 tbsp coconut cream
Coconut cream
8,5 ounces coconut cream
0,5-1 tsp vanilla extract
0,5-1 tsp agave syrup
Directions:
First thing you need to do is to put your coconut cream in the freezer, my suggestion is that you also freeze the bowl in which you will whisk the cream in as well as the beater. (let it be in the freezer for at least 15 minutes). Start by making the semle buns. Put the rolled oats in your food processor and process until fine flour. add the almond flour and the cardamom. Pulse until well combined. Add dates, start with less than 6 and add until you reach a consistency that you can work with. It will feel almost as play dough. Form small round buns and put them in the freezer while you make the almond paste and cream. When the buns are a little bit frozen they are easier to cut and work with.
Next step is to make the almond paste. Grind the almonds until fine flour and then add the vanilla, agave and coconut cream.
Last step is to whisk the coconut cream. If your using a coconut cream that contains water, make sure to separate the cream from the water. Whisk the cream with an electric beater and add the vanilla extract when the cream is nice and fluffy. Don't whisk for to long, the coconut will melt in heat and a lot of whisking can create heat. The cream is supposed to stick to the bowl if you hold it upside down.
Assemble your Semla by cutting of the top, don't cut it in half. It should be a bun and small top. Set the tops aside, fill the bun with a thin layer of almond paste and the pipe the cream on top. Put the top on the cream and sprinkle some almond flour or coconut flour on top.
Delicious healthy snacks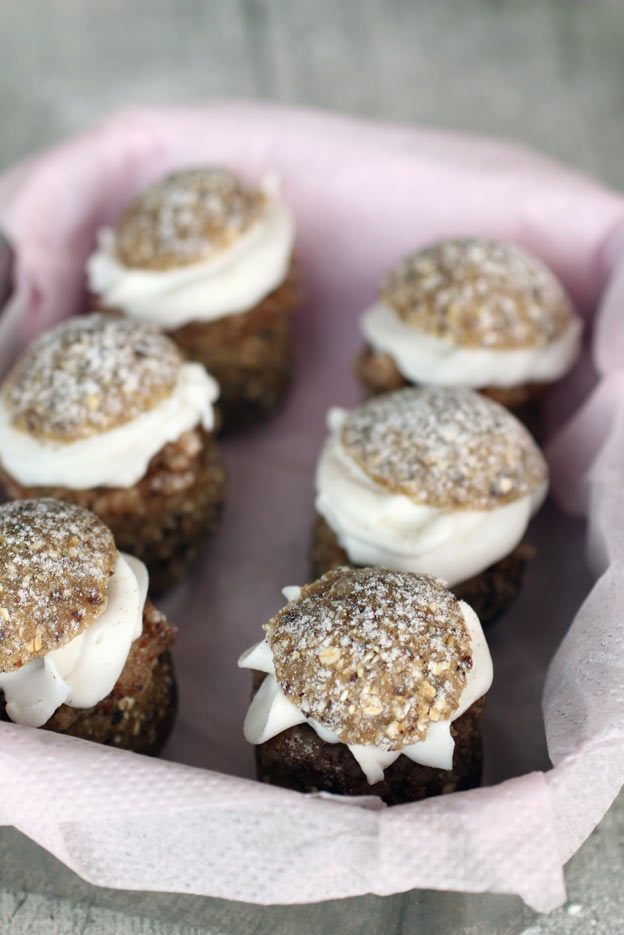 Dessert that will wow your friends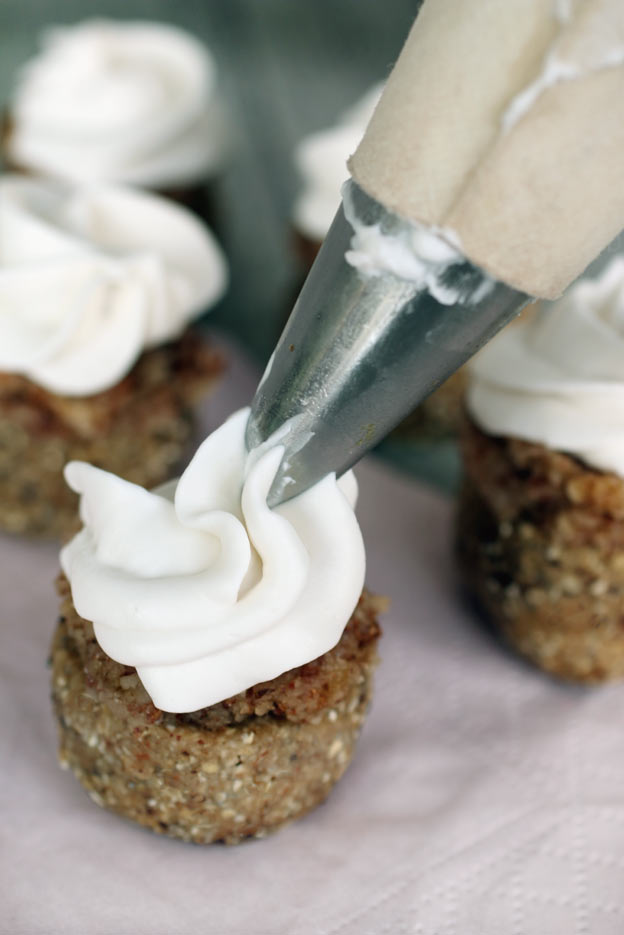 Coconut cream is the perfect healthy alternative to dairy whipped cream