Warm potato salad with fresh dill
This summer me and my girls spent a weekend with their grandparents – Ann-Cathrine and Lennart. They have the most beautiful cottage. It´s situated in an open meadow with beautiful flowers in all colors surrounding it.  The house is painted in the typical red and white color most Swedish cottages have and next to it is a small barn, an outhouse and a guest house.
There are many places in the garden where you can sit down and just enjoy the silence, listen to the buzzing of the bees and smell the flowers. Everywhere you see you will find small decorations, mirrors, golden Christmas tree balls hanging in a tree, baskets, pieces of beautiful old china and other things that she has collected over the years.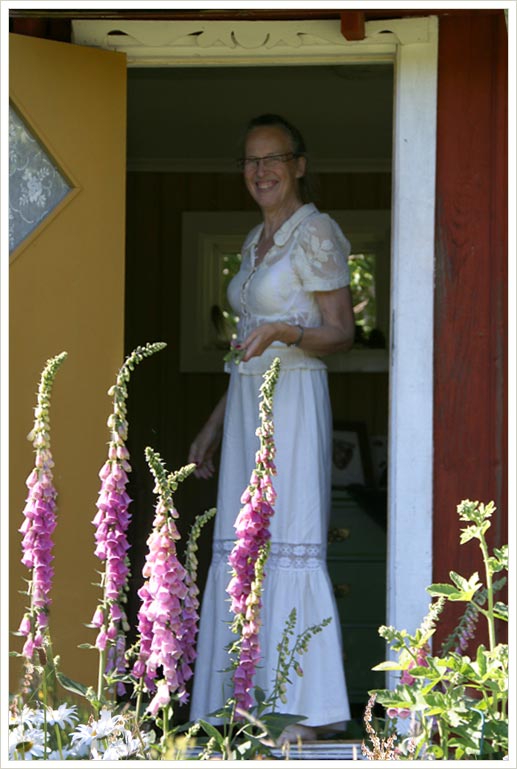 In the garden you will find all kinds of vegetables. Lettuce in reds and greens are growing in long rows and there are onions, potatoes, asparagus, herbs, grapes and my personal favorite – cherry tomatoes.
For lunch I made one of my favorite summer salads – warm potato salad with lots of fresh dill.
When it comes to the amount of dill, you can't have too much if you ask me – the more the better.
My youngest daughter who loves to help in the kitchen volunteered to get the ingredients in the garden while I was preparing for a picnic.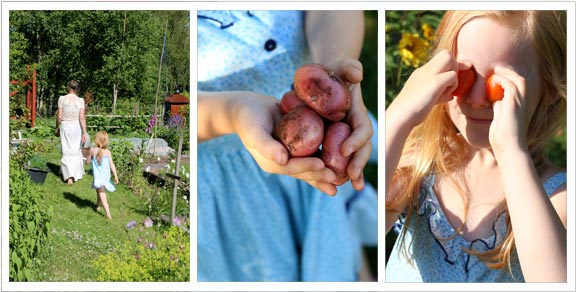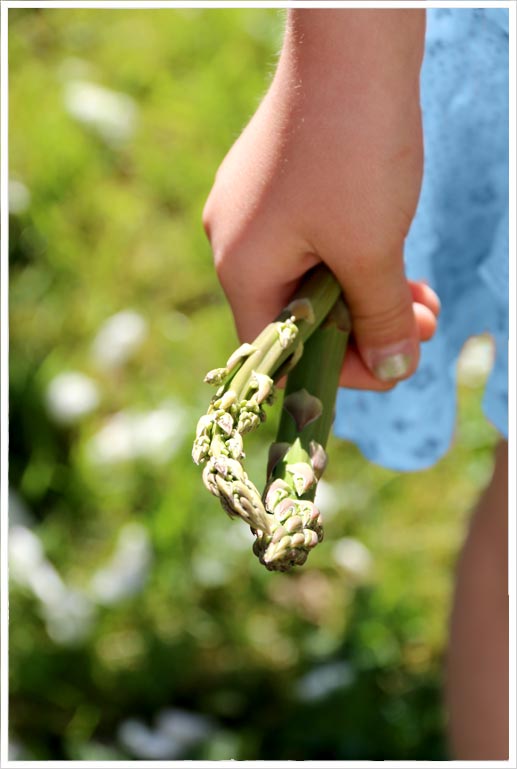 Recipe, 4 servings
8-10 medium sized potatoes, washed but not peeled
Lettuce
10 cherry tomatoes
1 apple
10 olives
10 sugarsnaps
5 radishes
1 shallot or a bundle of chives
A big pinch of fresh dill
A bundle of asparagus
3 tablespoons olive oil
1/2 tablespoon white wine vinegar
1 tablespoon agave syrup or honey
3-4  tablespoons grated parmesan cheese
Salt and pepper  to taste
Serve with
A few slices of halloumi
A few slices of water melon
Preparation
Cut the potatoes into chunks and add them in enough cold water to cover in a stockpot.
Simmer on medium until just tender. Drain.
Boil the asparagus. Bring 1 inch salted water to a boil in a large skillet.
Add asparagus in one layer. Cook until tender, about 5 minutes.
Drain, and sprinkle with salt.
Meanwhile, in a large bowl whisk the olive oil with the vinegar, grated parmesan cheese and agave syrup. Season well with salt and pepper.
Dice the shallot (or chives) and dill fine, tear or chop your lettuce into large pieces, cut the sugarsnaps in large pieces, slice the radishes thin, cut the cherry tomatoes in half, dice the apple in small pieces.
Add the potatoes, shallot, dill, lettuce, sugarsnaps, radishes, cherry tomatoes, apple and olives to the olive oil marinade.  Stir gently to combine.
Garnish with the asparagus and some edible flowers. I used some pretty violets.
Serve warm with grilled halloumi cheese and slices of watermelon.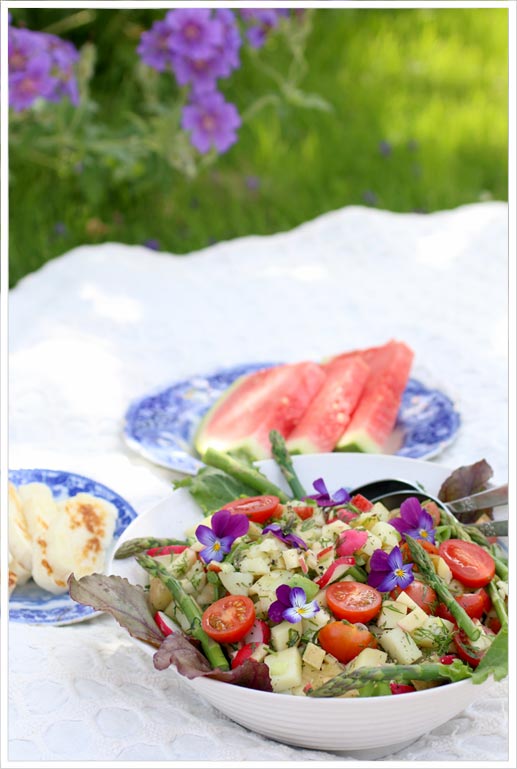 ---
Thank you for visiting my site!
I am looking forward to hearing your thoughts on this recipe.
Leave me a comment down below or take a second to share it with a friend. All comments are greatly appreciated.