Warm potato salad with fresh dill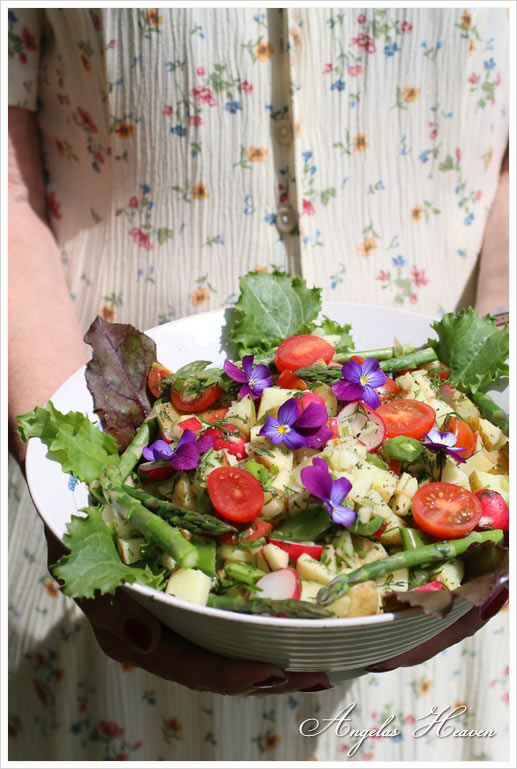 This summer I spent a weekend with my mother in law, Ann-Chatrine. She has the most beautiful cottage I have ever seen. It´s situated in an open meadow with beautiful flowers in all colors surrounding it.  The house is painted in the typical red and white color most Swedish cottages have and next to it is a small barn, an outhouse and a guest house.
There are many places in the garden where you can sit down and just enjoy the silence, listen to the buzzing of the bees and smell the flowers. Everywhere you see you will find small decorations, mirrors, golden Christmas tree balls hanging in a tree, baskets, pieces of beautiful old china and other things that she has collected over the years.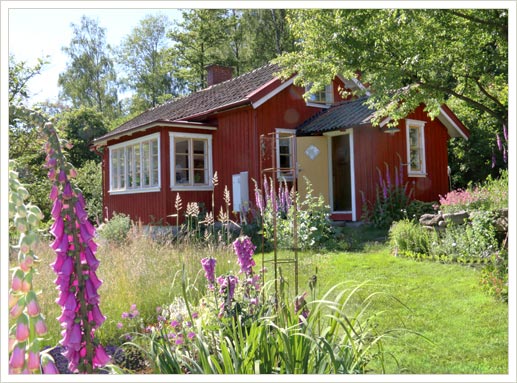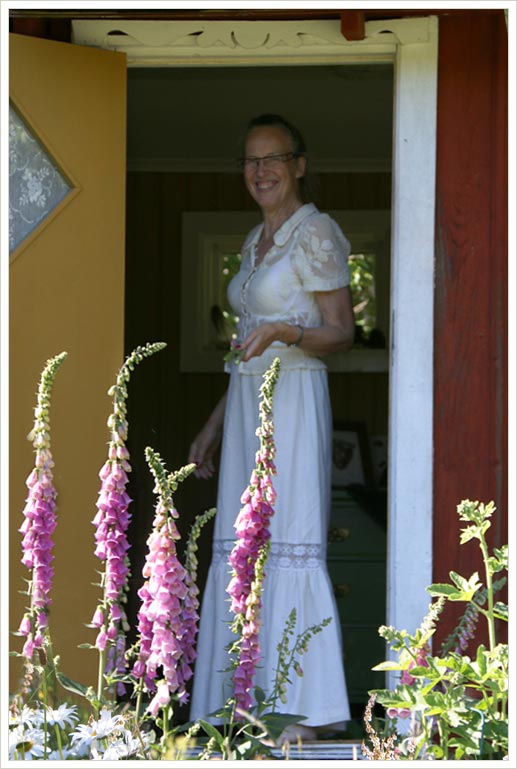 In Ann-Chatrines garden you will find all kinds of vegetables. Lettuce in reds and greens are growing in long rows and there are onions, potatoes, asparagus, herbs, grapes and my personal favorite – cherry tomatoes.
When we visit her she always makes a nice homemade dinner with vegetables from her garden. Today I wanted to make the dinner and I made one of my favorite summer salads – warm potato salad with lots of fresh dill. When it comes to the amount of dill, you can't have too much if you ask me – the more the better. My youngest daughter who loves to help in the kitchen volunteered to get the ingredients in the garden while I was preparing for a picnic.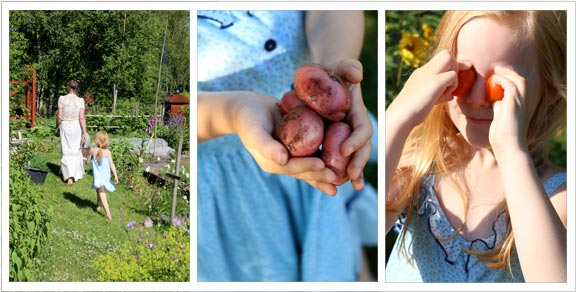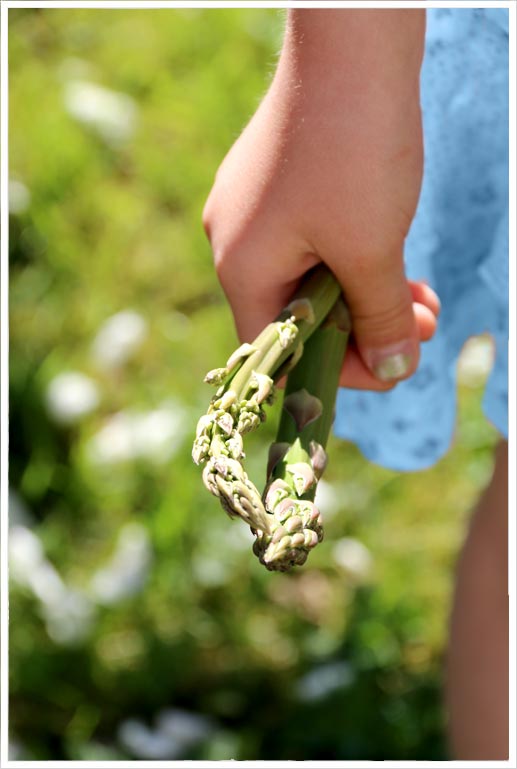 Recipe, US measurements (Swedish measurements)
8-10 medium sized potatoes, washed but not peeled Lettuce 10 cherry tomatoes 1 apple 10 olives 10 sugarsnaps 5 radishes 1 shallot or a bundle of chives A big pinch of fresh dill A bundle of asparagus 3 tablespoons olive oil 1/2 tablespoon white wine vinegar 1 tablespoon agave syrup or honey 3-4  tablespoons grated parmesan cheese Salt and pepper  to taste
Serve with A few slices of halloumi A few slices of water melon
Preparation Cut the potatoes into chunks and add them in enough cold water to cover in a stockpot. Simmer on medium until just tender. Drain.
Boil the asparagus. Bring 1 inch salted water to a boil in a large skillet. Add asparagus in one layer. Cook until tender, about 5 minutes. Drain, and sprinkle with salt.
Meanwhile, in a large bowl whisk the olive oil with the vinegar, grated parmesan cheese and agave syrup. Season well with salt and pepper.
Dice the shallot (or chives) and dill fine, tear or chop your lettuce into large pieces, cut the sugarsnaps in large pieces, slice the radishes thin, cut the cherry tomatoes in half, dice the apple in small pieces.
Add the potatoes, shallot, dill, lettuce, sugarsnaps, radishes, cherry tomatoes, apple and olives to the olive oil marinade.  Stir gently to combine.
Garnish with the asparagus and some edible flowers. I used some pretty violets.
Serve warm with grilled halloumi cheese and slices of watermelon.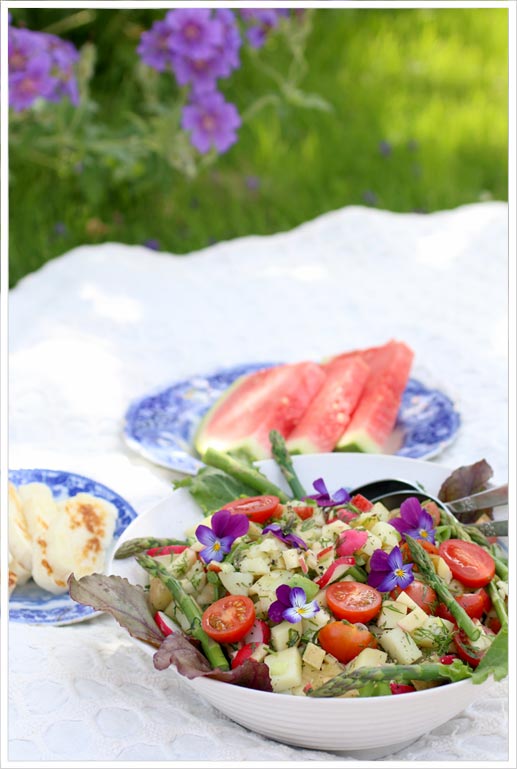 Salad with chevre, strawberries and apple with cinnamon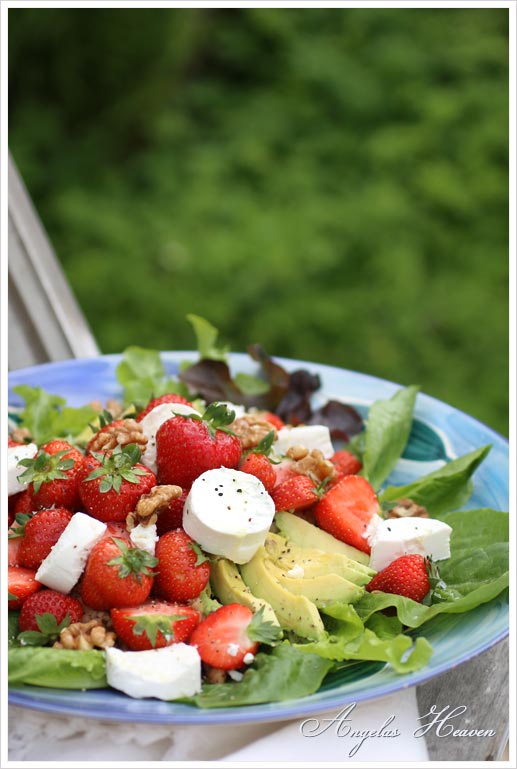 It's an unexpected combination but it works really well.
I got the idea a couple of weeks ago when I was in town and bought a smoothie and sandwich for lunch. It was a sandwich with chevre, strawberries and some sauce that tasted like cinnamon. Delicious!
A few days later I tried making a salad inspired by the sandwich. It turned out really nice. The combination between soft cheese, crisp walnuts, sweet strawberries and cinnamon apples is fantastic.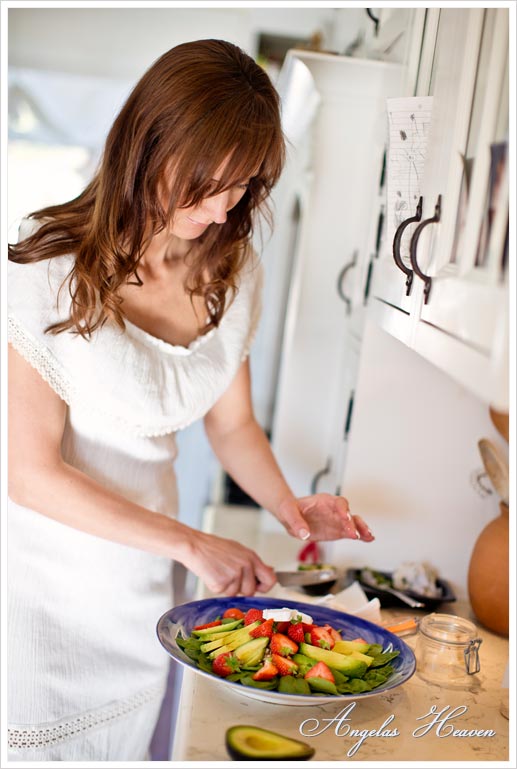 Recipe, 2 servings
US measurements (Swedish measurements)

Green salad of your choice
1 Avocado
1 1/2 cups (2-3dl) of fresh strawberries
A few slices of chevre (goats cheese)
1 apple
1/2 cup (1dl) walnuts
1/2 Tablespoon Cinnamon
Agave syrup
Flake salt & black pepper
Begin by chopping the green salad coarsely and put it on a nice plate.
Chop the apple in really tiny pieces.
Put the apple in a separate bowl and add the cinnamon. Use your hands or a spoon to stir.
Spread the apples over the green salad.
Cut the avocado in half. Discard the pit and cut thin slices of the avocado. Spread them like a fan over the apples.
Cut each strawberry in half and spread them over the apples.
Put the pieces of chevre on top of the strawberries and then spread the walnut over them.
Pour some agave syrup over and sprinkle with flake salt and black pepper.
Voila!
Health benefits of cinnamon
Weight loss
Cinnamon can help stabilize blood sugar which is great for weight loss.
Lower Cholesterol
Studies have shown that just 1/2 teaspoon of cinnamon per day can lower LDL cholesterol.

Yeast infection help
Cinnamon has an amazing ability to help fight against bacterial and fungal infections.
High in nutrient's
It is a great source of manganese, fiber, iron, and calcium.
Pain relief
Honey and Cinnamon combined have been found to relieve arthritis pain.
Natural food preservative
When added to food, cinnamon inhibits bacterial growth and food spoilage, making it a natural food preservative.
Brain food
Just smelling cinnamon boosts cognitive function and memory.