Green mango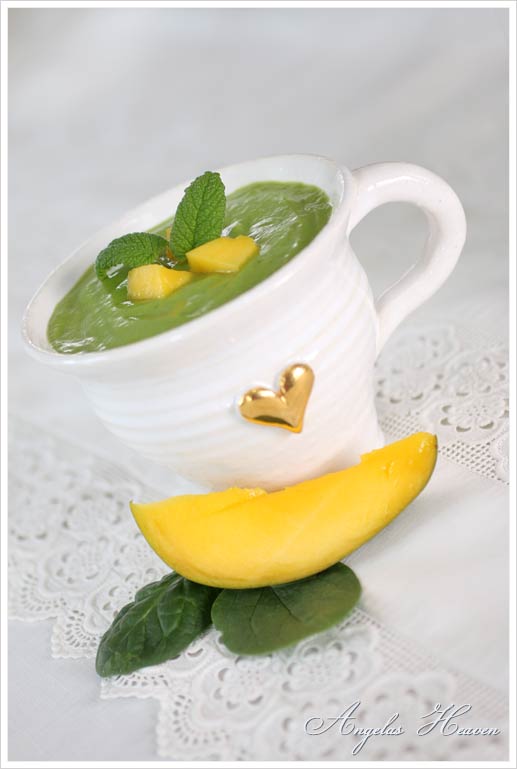 Here is my favorite green smoothie recipe. If you have never tried a green smoothie before, you should try this. It is creamy, sweet and super healthy.
Use more mangos if this is the first time you try a green smoothie and after a while you will notice that you don't need as much mango. It's like the body is getting used to the green flavor and you start to appreciate it more and more.
The smoothie needs to be chilled so if you don't have frozen mango, throw in some ice cubes when you mix.
Recipe, 1 glass
US measurements (Swedish measurements)
1 avocado.
1/2 – 1 cup (1-2 dl) Frozen mango.
1/2  cup (1dl) Leafy greens firmly packed. I like arugula (rucola). It gives the smoothie a peppery flavor. Baby spinach is another favorite.
1 cup (2dl) Water
Combine greens, mango, avocado and water in a blender. Blend until smooth.
If the mixture is too thick, add a little more water.
Drink immediately or pour in a thermos if you'd like to save it for later or bring it with you.
Cleansing sweet beetroot juice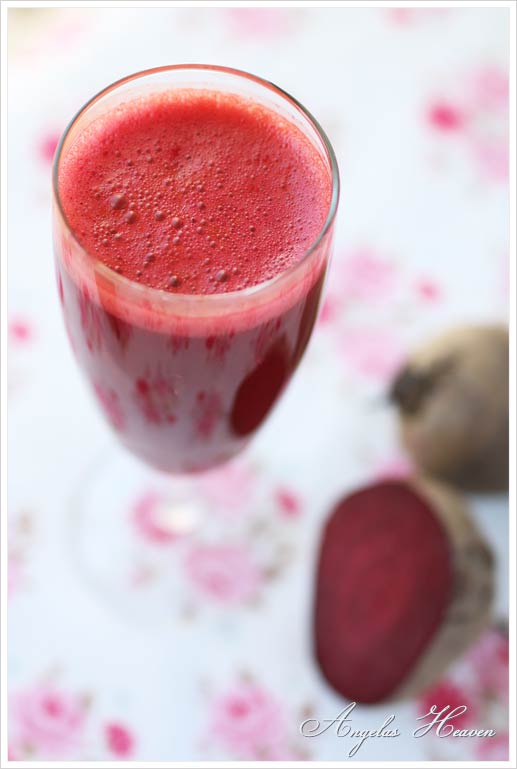 Fresh beetroot juice is a powerful food for the liver. It contains an antioxidant called betacyanin that helps prevent the formation of cancerous tumors and also detoxifies the body of all harmful toxins.
Other benefits of drinking beetroot juice
Beets are particularly beneficial to women whom are pregnant, as the vitamin B and iron are very beneficial to new growth cells during pregnancy and replenishing iron in the woman's body.
Beets contain betaine, the same substance that is used in certain treatments of depression. It also contains trytophan, which relaxes the mind and creates a sense of well-being, similar to chocolate.
Drinking beet juice regularly helps to utilize the calcium in the body and promotes healthy skin and hair growth. It strengthens the bones and may be beneficial in the prevention of acne.
The magnesium contained in the juice can also help to ease muscle tension, stress and anxiety.
Beetroot juice lowers blood pressure within an hour of consuming it which helps to prevent heart attack, stroke and other cardiovascular problems.
Beetroot juice is one of the richest dietary sources of antioxidants and naturally occurring nitrates.
It improves blood flow throughout the body – including the brain, heart, and muscles.
Raw beet greens contain two carotenoids: lutein and zeaxanthin. Science reports them to be extremely beneficial for the eye.
The top greens are an excellent source of carotenoids, flavonoid anti-oxidants, and vitamin A.
Note: Beets can be so detoxifying that if you are in a toxic condition you may experience headaches and fatigue. Don't worry; this is only a sign that toxins are leaving your body.
It is important to consume beets raw. The powerful betalain reduces significantly when cooked.
Recipe, 1 glass
US measurements (Swedish measurements)
1 Beetroot
1/2 Orange
3/4 cup (2dl) Water
Peel the beetroot and cut off  both ends of the beet.
Cut it into chunks and put it in a high speed blender together with the water.
Puree until smooth.
Place a fine mesh strainer over a large bowl and pour the juice over. Use a rubber spatula to press the pulp down and squeeze all of the juice out.
Discard pulp and pour the juice in the blender. Add the orange.
Mix until smooth.
Pour the juice into a glass and drink immediately.
To good health!
Marilyn – strawberry smoothie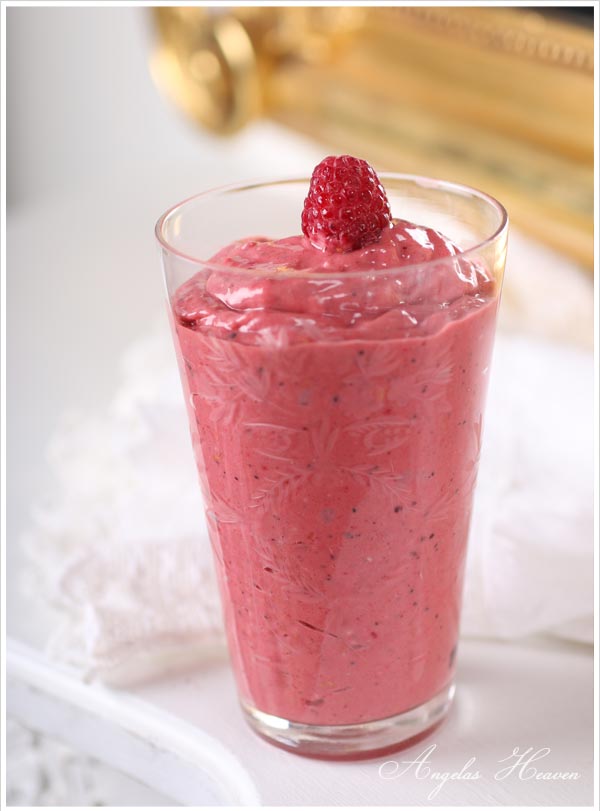 This is summer in a glass!
I'm trying new smoothie recipes right now and this pink, creamy smoothie was delicious.
Almost like ice-cream.
Recipe, 1 large glass
US measurements (Swedish measurements)
1 cup (2dl) half frozen strawberries
1 cup (2dl) half frozen mango
1 passion fruit
3 dates
1 Tea spoon chia seeds (optional)
Put everything in a high speed blender and mix until smooth and serve.
Facts about the passion fruit

In one passion fruit there is over 70mg of vitamin C.  (120% of daily require value)
Passion fruit contains high amounts of iron. (20% of daily required value)
Passion fruit is highly effective to protect from high blood pressure.
Passion fruit contains high amount fiber which reduces cholesterol level in blood.
Passion fruit is high in vitamin A, which helps you maintain a healthy immune system, healthy eyes, skin, teeth and bones.