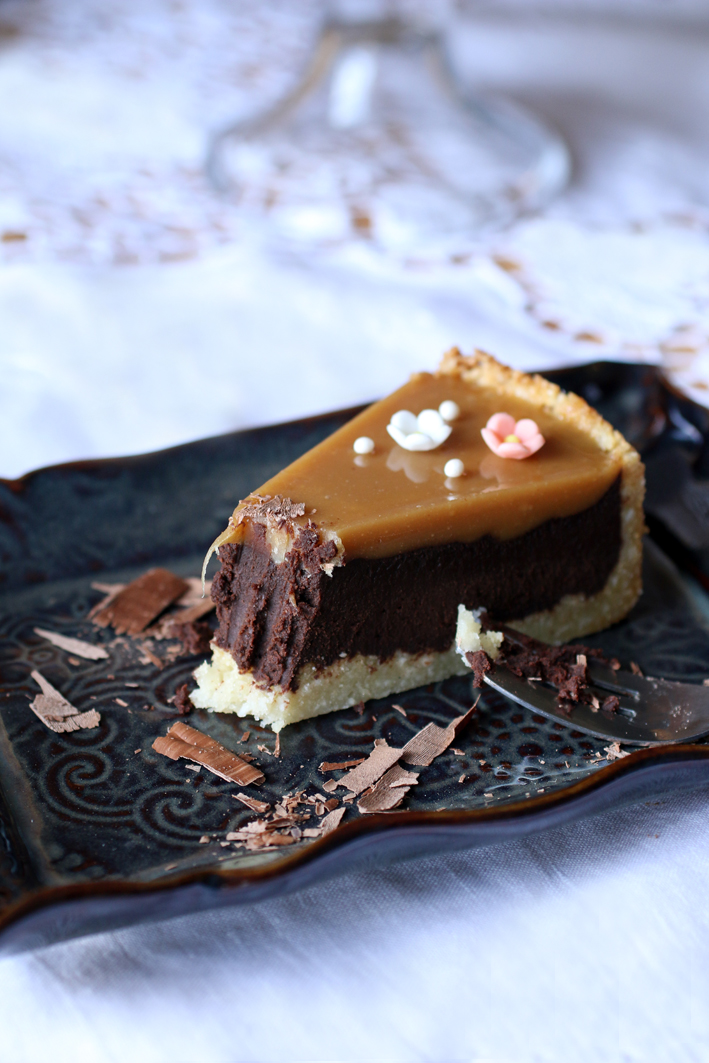 I have never been one to turn down anything containing chocolate and this is no exception. I just love it. The only thing that is better than dark chocolate is dark chocolate in combination with another yummy ingredient – like fudge. Way too sweet on it's own, but in this recipe together with chocolate and pie crust – yum!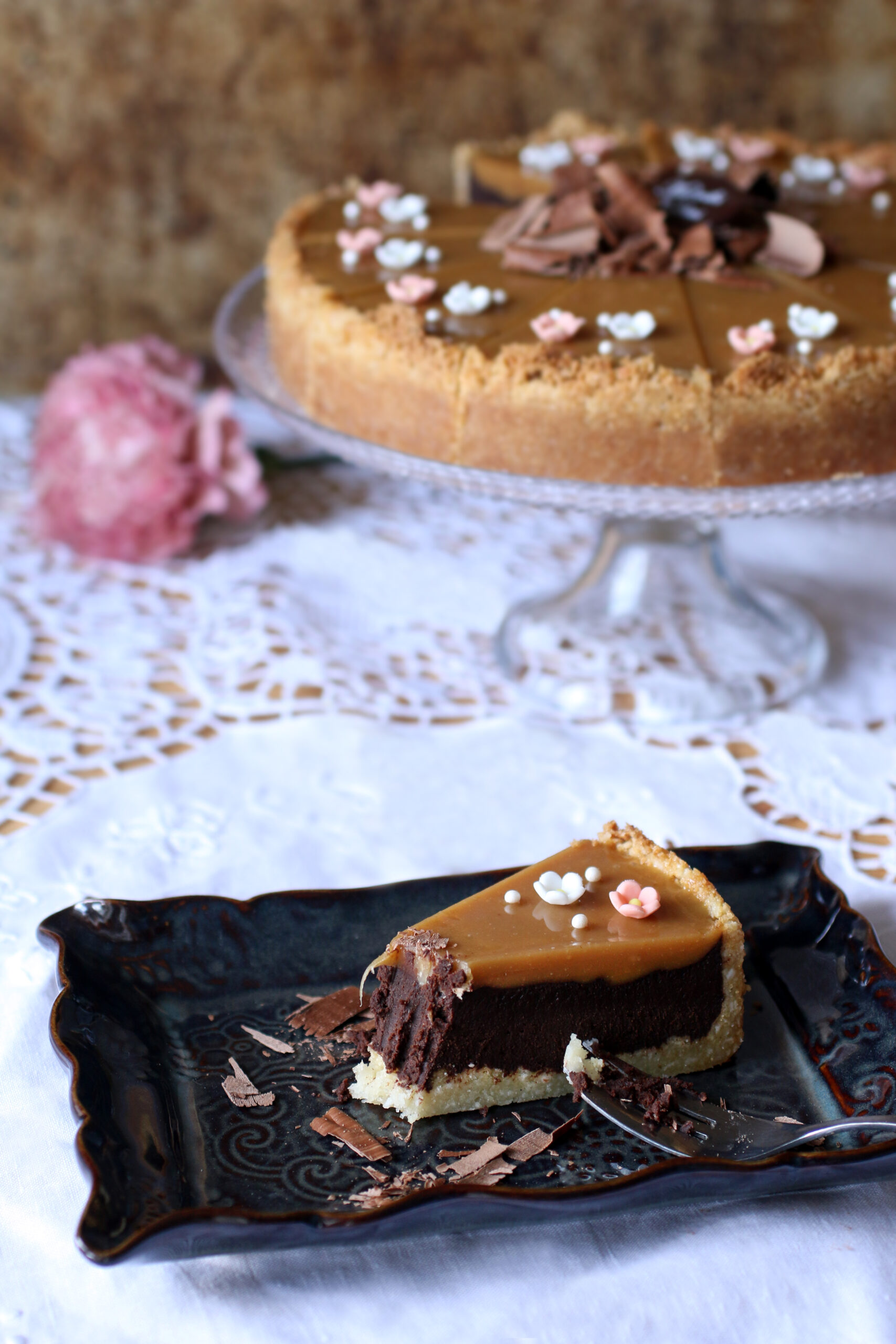 You can make this pie and keep it in the freezer if you want. That way you have a beautiful cake whenever you feel like something sweet and since it's both vegan and gluten free it can be enjoyed by everyone.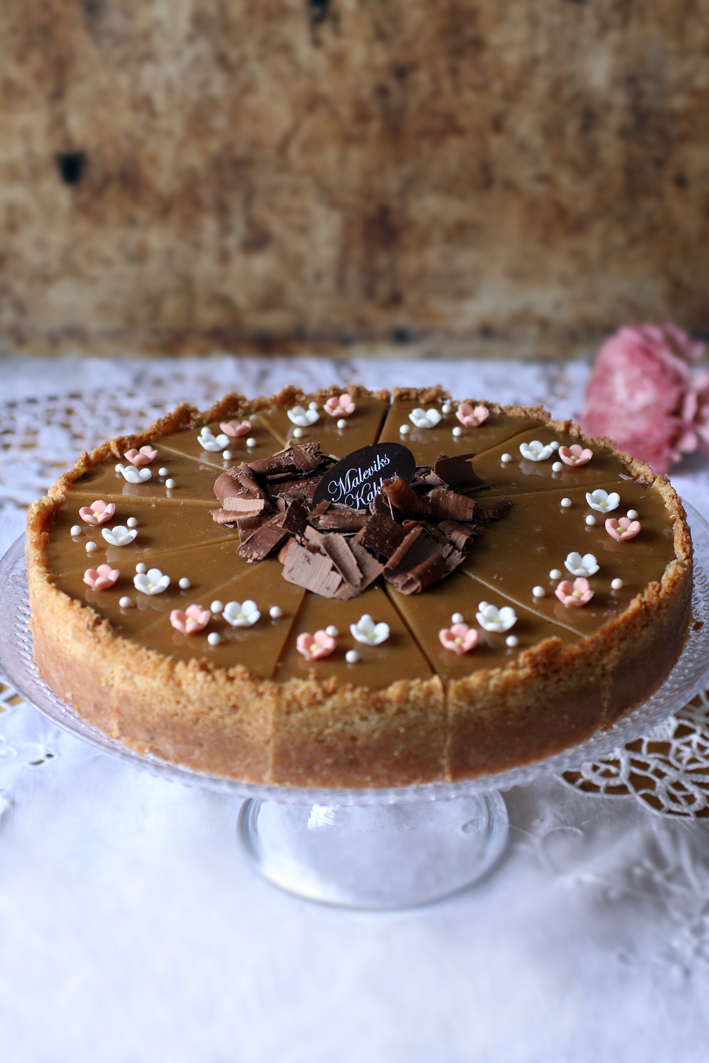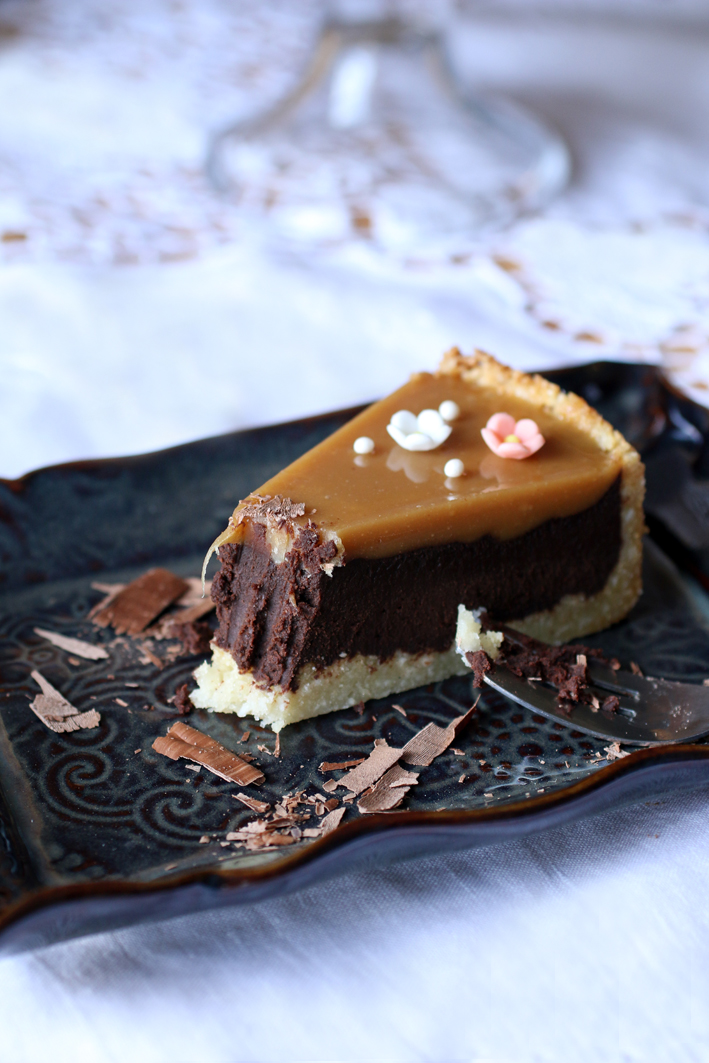 Print Recipe
Vegan Chocolate Fudge Pie
Ingredients
Pie crust:

1 cup gluten free flour

0.5 cup almond flour

0.5 cup sugar

0.5 cup shredded coconut

1 tablespoon baking powder

0.5 teaspoon xanthangum

0.5 teaspoon vanilla powder

100 gram vegan butter

1 pinch of salt

Chocolate filling:

500 gram dark chocolate

100 gram vegan butter

3 tablespoons coconut sugar

1 cup vegan cream

2 teaspoons vanilla sugar

Fudge:

0.5 cups vegan cream

0.3 cup sugar

0.3 cup syrup

75 gram vegan butter
Instructions
2
Put all of the ingredients in a food processor and mix until well combined.
3
The trick to the best flaky pie crust is to use very cold butter and ice cold water and to work quickly to keep the butter cold.
4
Place the dough in your baking tin. Press the dough firmly against side and bottom.
5
Bake for 16 minutes in the oven at 350 degrees F (175 degrees C). The edges will "melt" a little while the dough is in the oven. Use a spatula or a fork to gently press up the edges again.
7
Melt the butter and chocolate.
8
Add the coconut sugar, vanilla sugar and vegan cream. Mix until well combined.
9
Pour the chocolate filling in the crust and let it set in the fridge.
11
Add vegan cream, sugar and syrup to a pan and stir to combine over medium-low heat.
12
Increase heat to medium-high and bring to a boil. Immediately reduce heat to low and continue simmering for about 20 minutes, stirring constantly.
13
Remove from heat and pour over the chocolate pie.