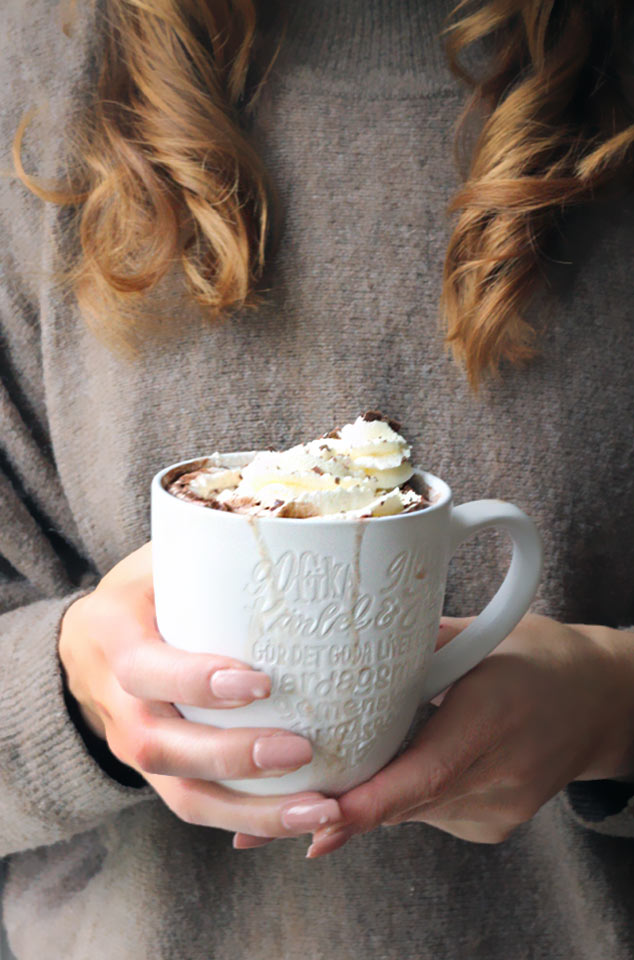 It's a cold a grey autumn here and I felt like cheering me up a little so I made a cup of hot cocoa with whipped cream. I just love chocolate. I believe the scientists who says that dark chocolate can actually make you happier. Just sipping on this cocoa made me feel happy at once.
Did you know that chocolate contains phenylethylamine that regulates mood? A recent research from University College London studied over 13,000 people and found that individuals who reported eating any dark chocolate in two 24-hour periods were 70 percent less likely to report clinically-relevant depressive symptoms than those who ate no chocolate at all.
There you have it….the proof that its ok to eat chocolate every day =)
Whats your best recipe for healthy comfort food?
I wish you the best Tuesday afternoon,
Angela
Ingredients
1 cup almond milk or any other milk you like

1 tablespoon cacao powder

1 Tablespoon pure maple syrup

1/4 teaspoon vanilla extract
Instructions
1
Combine all the ingredients into a saucepan over high heat, using a whisk to break up any clumps. Keep stirring until smooth and piping hot, then pour into a mug and serve warm.
2
Top with dairy-free whipped cream and shaved chocolate, if desired.