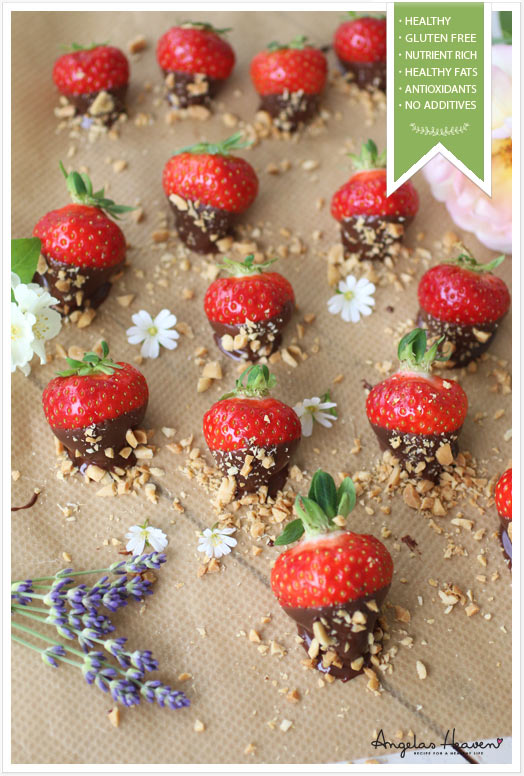 The strawberries are pretty together with some fresh flowers. 
These chocolate covered strawberries are perfect as a healthy snack on your summer party. The salted nuts goes perfect with the sweet strawberries and dark chocolate. I made these strawberries a couple of days ago when I had some friends over. I put them on a baking sheet while they were still wet and it was so pretty with the strawberries and the sprinkled nuts so I just decorated with some fresh flowers from my garden and served them as they were on the baking sheet. Easy to make and delicious!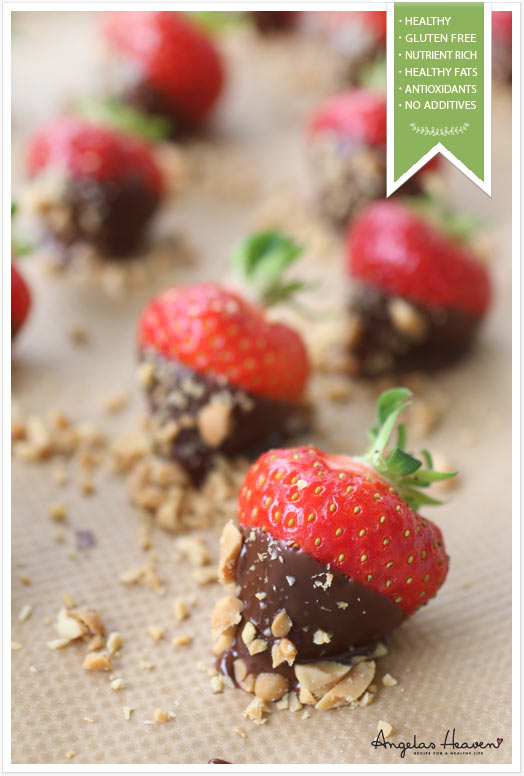 Recipe
Strawberries
Dark chocolate
Salted peanuts
Directions
Cut the peanuts into small pieces with a knife or by putting then in a blender.
Melt the dark chocolate: Fill the bottom of a saucepan with an inch or two of water and bring the water to a simmer over medium-high heat. Transfer all the chocolate into a heatproof bowl and set this over the simmering water. Let the chocolate melt, stirring occasionally until it's melted. Remove the bowl with the chocolate from heat.
Line a baking sheet with parchment and place this on your right.
Dip the strawberries: Grasp the strawberry by the top leaves and dip half of the strawberry into the chocolate.
Lay dipped strawberries on a baking sheet. Repeat with dipping the remaining strawberries.
Sprinkle with the peanuts.
Let the strawberries sit until the chocolate coating is set and dry to the touch. You can put the baking sheet in the fridge to speed this along.