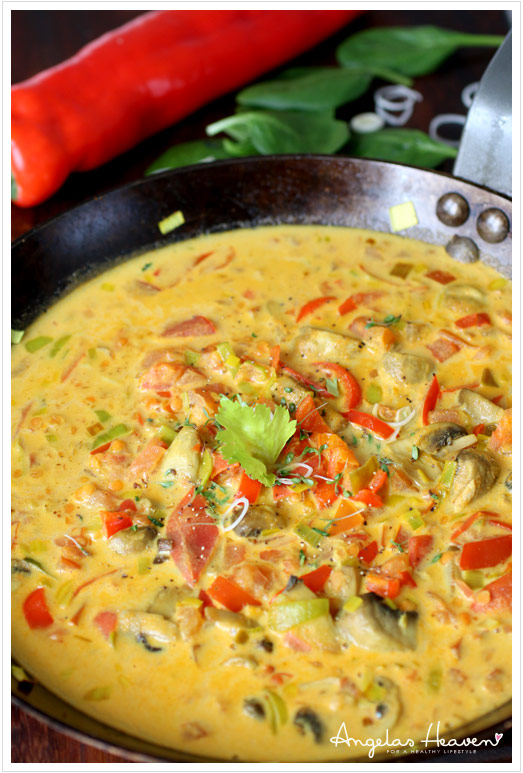 Warm, satisfying, healthy comforting curry
We love curry in our family and we have it at least once every week. This is my latest recipe with fresh ginger that adds a sweet heat to the dish. Fresh ginger and coconut cream are a wonderful combination. It's one of my favorite fresh spices to incorporate into my recipes. It not only has a lot of potential health benefits, but it adds a lovely flavor that complements other flavors so nicely.
Unlike many other spices, fresh ginger has a unique flavor and simply can not be substituted for dried ginger. If you don't use fresh ginger frequently you can buy it and keep it in the refrigerator for at least a couple weeks or you can freeze it for later and break of small pieces when you need it.
Ginger has a variety of health benefits
The medicinal uses of ginger have been known for centuries and it is widely known for its immune-boosting abilities. It has been shown to be effective in treating nausea, morning sickness, sea-sickness, rheumatoid arthritis, relieve muscle pain and soreness, reducing pain and general muscle discomfort. Ginger root has a very high level of antioxidants making it an excellent defender against cell damage and associated disease caused by free radicals.
Feel free to change the vegetables in this recipe for your favorite seasonal vegetables. I personally love bell pepper and leek together with curry, but you can use your own favorite vegetables. Sliced bananas and peanuts would probably be great in this dish.
I´m using crème fraice because it adds a creamy deliciousness to the sauce. If you are vegan or don't want to use milk products you can substitute the crème fraiche for coconut milk.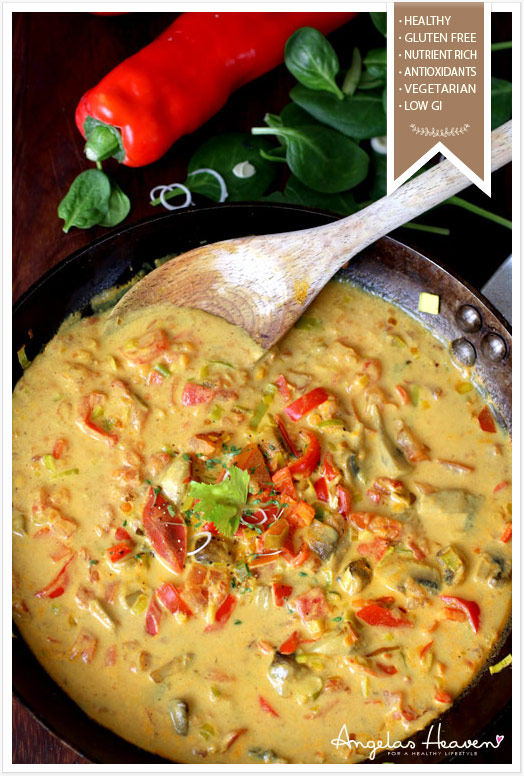 Recipe, 4 servings
1 cup white mushrooms, cut  into quarters
0,5 cup leek, sliced
1 tablespoon fresh ginger, minced
3 (360g) tomatoes, diced
1/4 cup red lentils
0,5 cup full fat coconut cream
0,5 cup full fat crème fraiche (can be substituted for coconut cream)
1-2 tablespoons yellow curry, depending on which brand you use
1 teaspoon salt
Directions
Heat a large saucepan or pot to medium heat and add 1 tablespoon coconut oil.  Add the leek, white mushroom and ginger.
Cook and stir frequently until softened, about 3-4 minutes.
Add the curry powder and cook for another minute.
Rinse the lentils and add them together with the rest of the ingredients.
Bring to a simmer, then reduce heat and continue cooking until the red lentils are soft. (10-15 minutes)
Taste and adjust as needed.
Serve with rice or quinoa and salad.