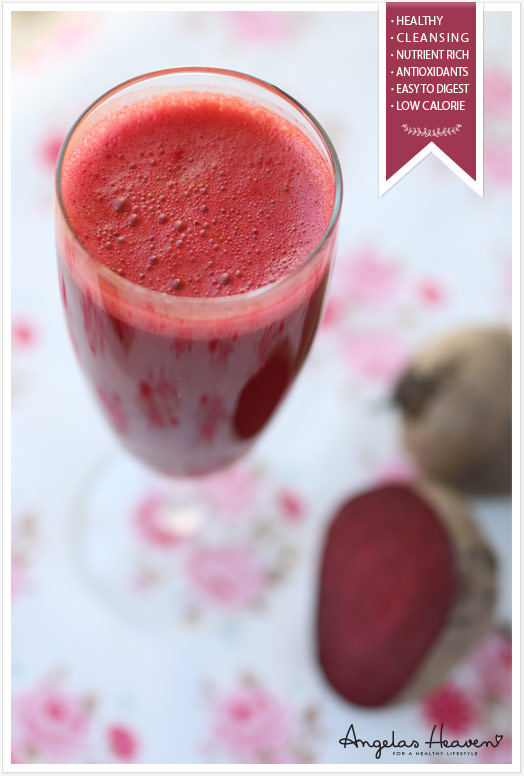 Get more nutrition by juicing
Since I got my slow juicer a year ago I´ve been juicing every day. It´s one of my favorite kitchen tools. Juicing is an easy way to get a lot of nutrition and antioxidants and if you combine your juice ingredients well you will have a delicious juice. By juicing your vegetables you can absorb the nutrients easier (it goes right into your bloodstream) and you´re giving your body loads of enzymes, minerals, vitamins, chlorophyll and anti-oxidants. A great way to cleanse the body and nourish your cells.
The combination of the beetroots and pomegranate is wonderful. Sweet and delicious. If you don't have a juicer you can use your blender. I have written about it on the bottom of this page.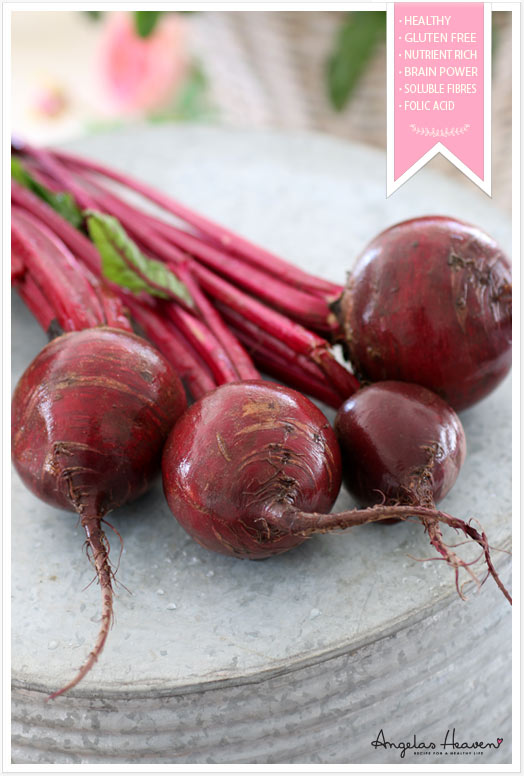 Beetroots are amazing for the skin.
This powerful drink is enriched with plentiful amount of lifesaving antioxidants. Beetroot juice is filled with essential nutrients that helps improve complexion, prevents and cures skin inflammation like acne and makes your skin younger looking. It has antiinflammatory properties and it cleanses toxins from the body, giving your skin and hair a healthy glow. The lycopene in beetroots protects the skin from sun burn and maintains elasticity of the skin.
By juicing you're going to get maximum amount of nutrition from the beets (or any vegetables that you are juicing). Most of the vitamins are lost when cooked. Beetroot juice is very powerful and detoxifying. Start with one juice a week and then slowly increase the amount.
More Benefits of Beetroot Juice…
Better vision with beetroot juice
Raw beets are full of carotenoids which are very beneficial for the eye. These cartenoids are easily absorbed when we are drinking raw beet juice.
Beautiful, healthy hair with beetroot juice
Beetroots are highly beneficial for the hair. It increases blood circulation of the scalp and aids in healthy hair growth.
Protects from cancer
The betacyanin in beetroot helps prevent the formation of cancerous tumors and also detoxifies the body of all harmful toxins. Betacyanin slows the growth of tumor by 12.5% in patients with breast cancer.
A great resource for pregnant women
Folic acid is very important for pregnant women. It protects the unborn child's spinal cord from spina bifida. 100 grams of beet root provides 27% of the RDA for folic acid known to prevent various birth defects in babies.
Beetroot improves blood flow and circulation in the body
Increased blood flow and circulation is particularly beneficial for brain and heart. It can prevent dementia.
Relieves you of anemia
Beetroots are full of iron which helps transport oxygen and treat anemia.
Juice the beetroot leaves
Did you know that beetroot leaves are more nutritious than beets? They leaves are very rich in antioxidants, iron, foliate, fiber, beta-carotene, vitamin A, vitamin C, vitamin B6, vitamin K and magnesium. You can add them to your salad instead of spinach or make a green superjuice. Other vegetables with healthy, edible green tops are carrots, celery, turnips and radish.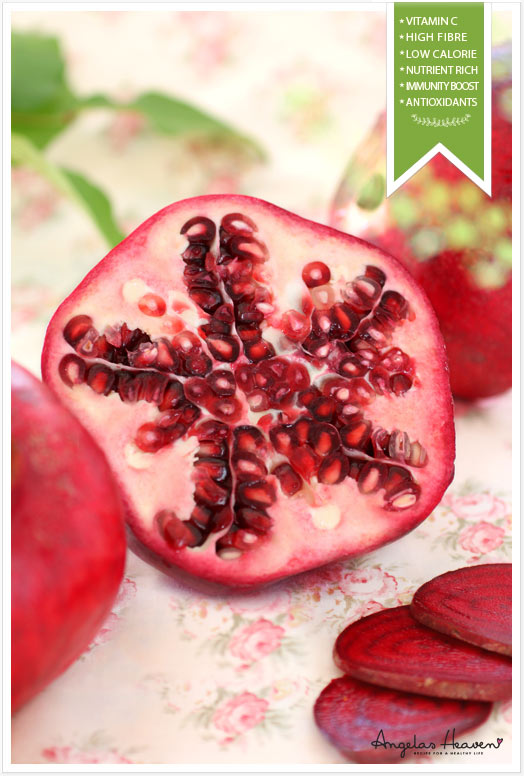 Pomegranate – one of the most powerful superfoods
Pomegranate is one of the most powerful foods that have been shown to inhibit breast cancer and has numerous health benefits.
Pomegranate is packed with antioxidants
The inside of the pomegranate is filled with pink arils with seeds inside that are juicy and sweet. Pomegranates are filled with more antioxidants than other superfoods and it helps produce elastin and collagen that softens the skin, making it look more firm, smooth and youthful. Eating pomegranate keeps your skin glowing and protects it from damage.
Recipe
1 pomegranate
1 large beetroot or 2 small
Directions
Cut the pomegranate into sections
Place a section in a bowl of water, then roll out the arils with your fingers and discard everything else
Strain out the water and run the arils through your juicer
Peel, trim and cut the beets in small pieces and run them through your juicer
Pour the juice into a glass and drink immediately.
If you don't have a juicer – use your blender!
Put the arils and pieces of beetroot in your blender together with some water. Blend until smooth and then separate the juice from the pulp by pouring the juice through a mesh strainer or cheesecloth into a container. Discard the pulp. Wear a pair of rubber gloves if you don't want the juice to stain your hands.
How to use leftover pulp from juicing
I don't like to throw away my leftover pulp from juicing, but I'm not sure what to do with it. How do you use juicing pulp? I would love some suggestions on how to make use of it.
Excess consumption of beetroot may turn urine color in pink – nothing harmful.