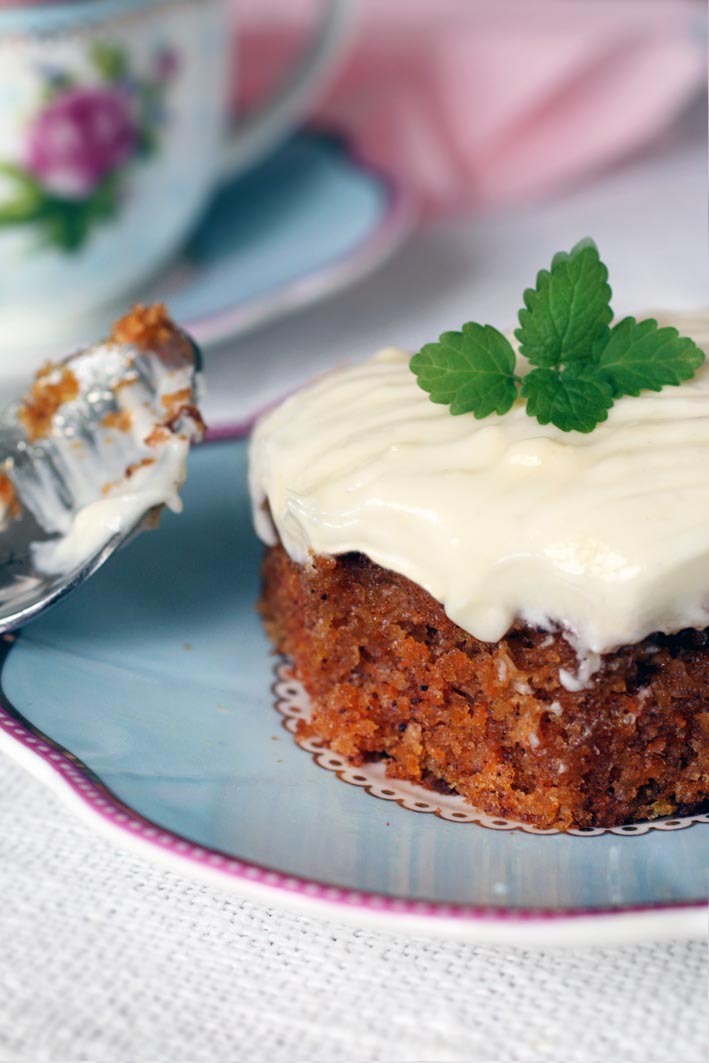 This cake is so easy to make, perfectly moist, and topped with an easy homemade cream cheese frosting.
Has spring had you craving carrot cake? If so, you'll love this gluten-free version of classic carrot cake. It's light, fluffy, moist and it tastes exactly like a regular cake made with white wheat flour. I think it might be the best carrot cake I've ever had. Serve it for Easter and your guests won't be disappointed.
When it comes to carrot cake recipes I know some folks like to add lots of mix-ins – things like raisins, coconut…even pineapple. I like a simple, pure carrot cake, but feel free to modify this gluten-free carrot cake recipe as you wish.
I made an extra portion of the icing to make it extra delicious and by the look of everyonce face I'd say it was a huge success. If you don't do dairy, I promise you this gluten-free carrot cake is abundantly delicious all on it's own.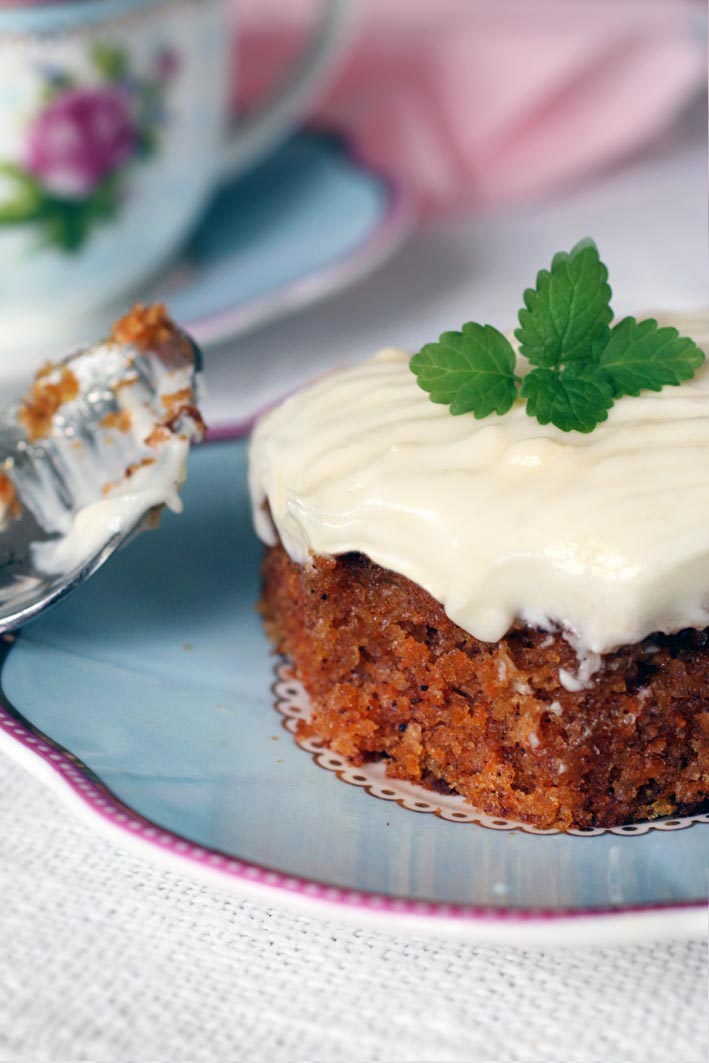 Print Recipe
Gluten-Free Moist & Fluffy Carrot Cake
Ingredients
Carrot cake:

250 g carrots

4 eggs

1 1/4 cups sugar

1 teaspoon bicarbonate

1 teaspoon baking powder

1 pinch of salt

2 teaspoons cinnamon

2 teaspoons psyllium husk powder (makes gluten free cakes moist and fluffy)

0,75 cup almond flour

1 1/4 cups gluten free flour

1 1/4 cups rapeseed oil

Icing:

50 g room temperature butter

300 g cream cheese

3 1/2 cups icing sugar (or powdered sugar)

2 teaspoons vanilla sugar (or vanilla extract)

lemon zest from half a lemon
Instructions
1
Carrot cake: Preheat oven to 350°F.
2
Grease and flour the bottom of a pan, approximately 25 x 30 cm.
3
Peel and grate the carrots.
4
In a large mixing bowl, whisk together the eggs and sugar until it's fluffy.
5
Add the bicarbonate, baking powder, salt, cinnamon, fiberhusk, almond flour and gluten free flour.
6
Add the oil and the grated carrots and mix until well combined.
7
Pour the cake batter evenly in the cake pan.
8
Bake at 350°F in the bottom of the oven for 20–30 minutes or until the tops of the cakes are set and a toothpick inserted into the center of each one comes out clean.
9
Remove from the oven, transfer to a wire rack, and allow to cool in the pans for about 20-25 minutes.
10
Icing: In a large mixing bowl using a hand-held mixer, beat the cream cheese and butter until smooth.
11
Add in the icing sugar (powdered sugar), vanilla sugar (or vanilla extract), lemon zest and continue mixing until fully combined, scraping down the sides of the bowl as needed.
12
Once the cakes have cooled pour the icing over the cake and smooth it out into one even layer.