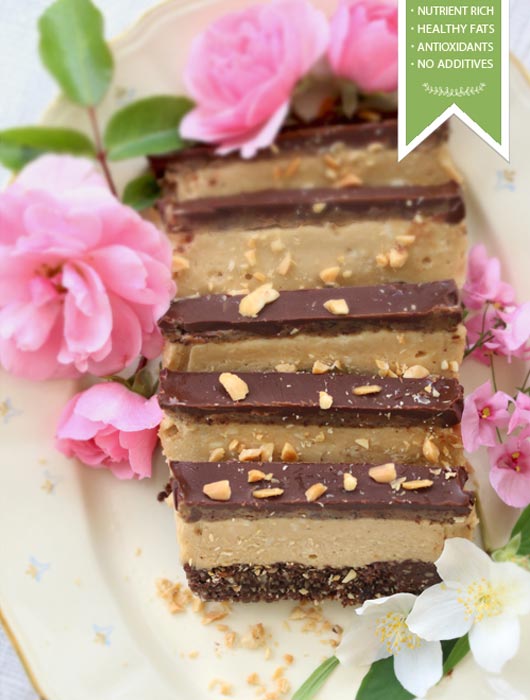 Seriously awesome Raw food cake that will satisfy every craving
Ahhh, this chocolate and peanut butter raw cake is just amazing. It's so rich in flavor and tastes super indulgent, but is made with all healthy ingredients! The combination of dark chocolate, creamy gooey peanut butter filling, a layer of sweet dates and crips chocolate topping makes this raw peanut butter cake almost irresistible.
I didn't really intend to make this cake a frozen cake, but as I put it in the freezer to make it easier to cut slices I discovered it was perfect to eat semi frozen. It's like a chocolate cake with peanut butter ice-cream.
Whether it's for a birthday party, an after-dinner dessert or just a way to satisfy a sweet tooth, you really can't go wrong with this amazing gluten-free peanut butter cake.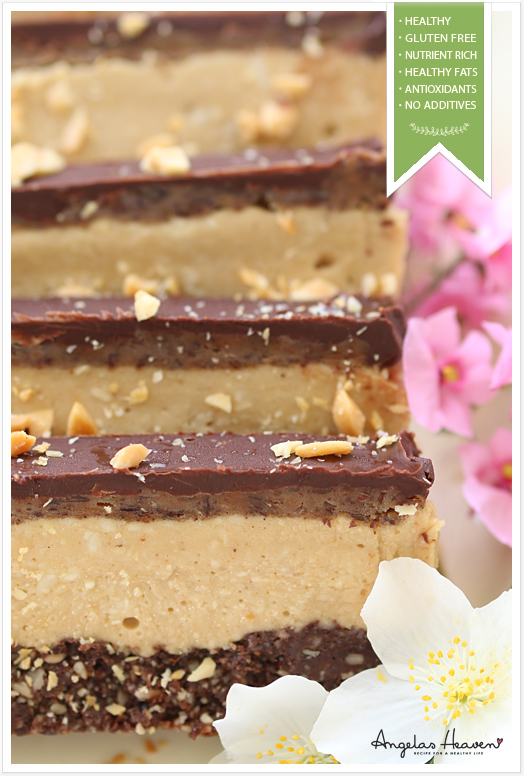 Creamy peanut butter filling and dark chocolate. So good….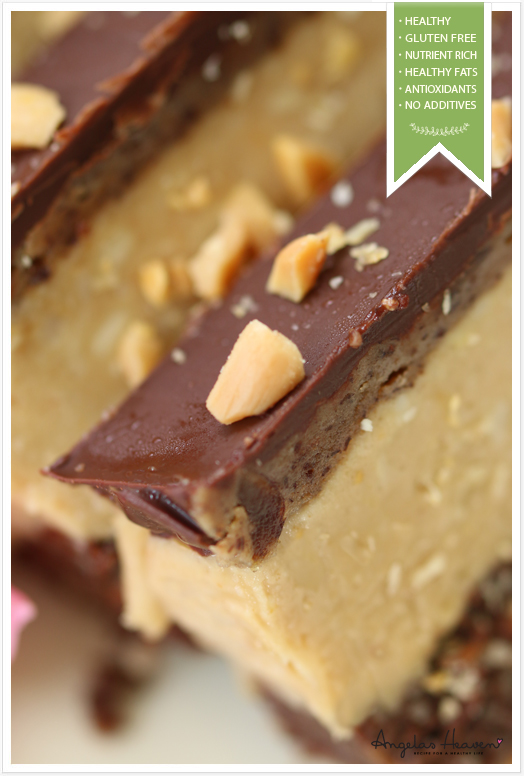 Recipe
Crust
1 cup sunflower seeds
1 cup large pitted dates (medjool)
3 tablespoons cocoa powder
Peanut butter filling
2 cups cashew nuts
1 cup peanut butter
1 teaspoon salt
Chocolate topping
1 cup large pitted dates (medjool)
80g dark chocolate
2 tablespoons coconut oil without coconut flavor
Directions
Crust
Put sunflower seeds, cocoa powder and dates in a blender or food processor and process until it reaches the consistency of a sticky dough.
Press with your fingers onto a bread pan to create the first layer.
Peanut butter filling
Put the cashews in a blender and process until it becomes smooth and creamy, stopping to scrape down the sides of the bowl every minute or two.
When the nut butter is creamy and smooth – add the peanut butter and salt.
Pour on the peanut butter filling on top of the crust.
Chocolate topping
Put the pitted dates in a blender and blend well. Spread the date paste evenly over the peanut butter filling.
Melt the dark chocolate and stir in the coconut oil.
Pour the melted chocolate evenly over the layer of date paste.
Put the cake in the freezer for a couple of hours.
Take out the raw peanut butter cake at least twenty minutes before serving. Cut it in slices, decorate with fresh flowers and peanuts.