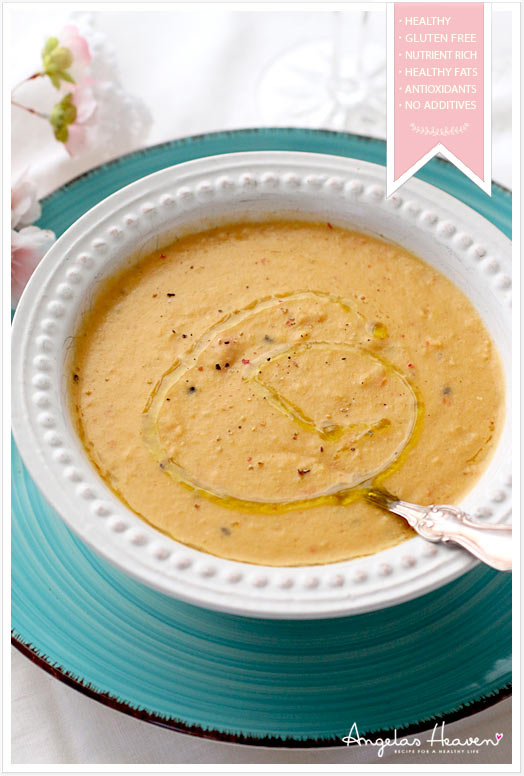 Hi everyone. It's time for some soup. I made this soup for the first time a couple of weeks ago when there was still lots of snow outside and the air was cold. As I'm writing this post spring has arrived and the birds are chirping away outside my window, but I must admit that I love eating soups all through the summer as well. It's perfect for any lunch or dinner when you just want something light and comforting.
So today I have some of my favorite ingredients combined all in one delicious, creamy soup: red lentils, red curry, lime leaves, coconut milk, tomatoes and some chili. Wonderful! It's really easy to make. All you have to do is toss the ingredients in a pan and let it simmer on the stove for fifteen minutes. Then you'll have a delicious, warming soup with lots of flavors and your house will smell wonderful.
I love tender and smooth red lentils which cook much quickly than other lentils. They don't need to be soaked before cooking and an entire cup of cooked lentils contains just 200 calories. The coconut milk in this recipe adds a sweet, unique flavor to the soup but is still subtle enough that the whole family will like it.
This soup makes a great freezer friendly meal that tastes just as good a month later.
Recipe, serves 2
3/4 cup Red lentils (rinsed)
1/2 cup Finely chopped onion
1,5 cup Water
1 cup Coconut cream/milk
1 cup Chopped fresh tomatoes
2 Lime leaves
1 tea spoon Red curry powder
1,5 tea spoon salt
A pinch of chili powder
Directions
Heat olive oil in a large saucepan over medium heat.
Add the onion and cook, stirring occasionally, until translucent and cooked through.
Stir in the rest of the ingredients.
Bring the mixture to a boil and then reduce the heat to a simmer and cook uncovered (stirring occasionally) until lentils are tender, about 15 minutes.
Remove the lime leaves.
Use a stick blender and blend the soup for a smooth texture. I like my soup when its medium well mixed so I use the stick blender for just a few seconds and then I'll have the perfect creaminess.
Taste and adjust with more salt if desired.
Enjoy!
Amazing gluten free bread
I love soups, especially if I have a nice piece of bread to go with it. Try this gluten free bread. It's one of the best gluten free breads I have ever tasted. So moist and full of sweet flavors from figs and crunchy hazelnuts.