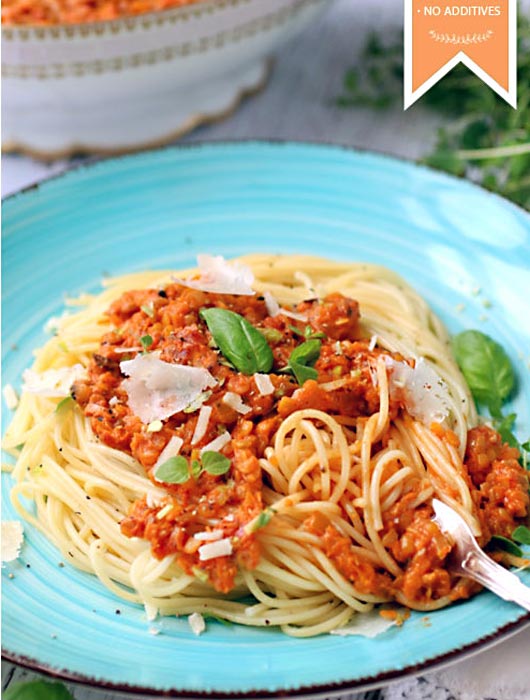 I am so excited to share this recipe with you. I´ve tried making vegetarian bolognese many times, but never really succeeded. This time it turned out really great and it's now one of my family's favorite meals. This rich and hearty vegetarian bolognese makes a fantastic family meal. Lentils are not usually my daughters favorite food but this bolognese however has been a huge success.
Another plus about this recipe: it will be good the first day, but even better the second day. So make a big batch and enjoy this bolognese over a couple of days.
TIP! Use this vegetarian bolognese and make a delicious lasagna. I use zucchini, mozzarella cheese and my bolognese in different layers. So good!
My favorite gluten free pasta is Doves Farm organic pasta.

Recipe
2 cups finely chopped mushroom
1 cup finely chopped leek
2 finely grated carrots
14 oz/400g crushed tomatoes
3/4 cup full-fat crème fraîche
1/2 cup rinsed red lentils
1 tea spoon red bell pepper spice
1/2 – 1 tea spoon sambal oelek
3 table spoons Toch of Taste liquid vegetable stock
2 tea spoons salt
a pinch of coarsely ground black pepper
Directions
Put oil in a pan and gently cook the chopped leek and mushroom with red bell pepper spice, salt and pepper until soft, stirring regularly.
Add the the grated carrots, crushed tomatoes, crème fraîche, sambal oelek, liquid vegetable stock and red lentils.
Bring to a gentle simmer, cover and cook for 20 minutes, stirring occasionally and adding a little water if it starts to stick.

Meanwhile, boil some salted water and cook the pasta per the box's instructions.

Serve the pasta with a few spoonfuls of bolognese on top. Garnish with Parmesan and s

erve with a salad.