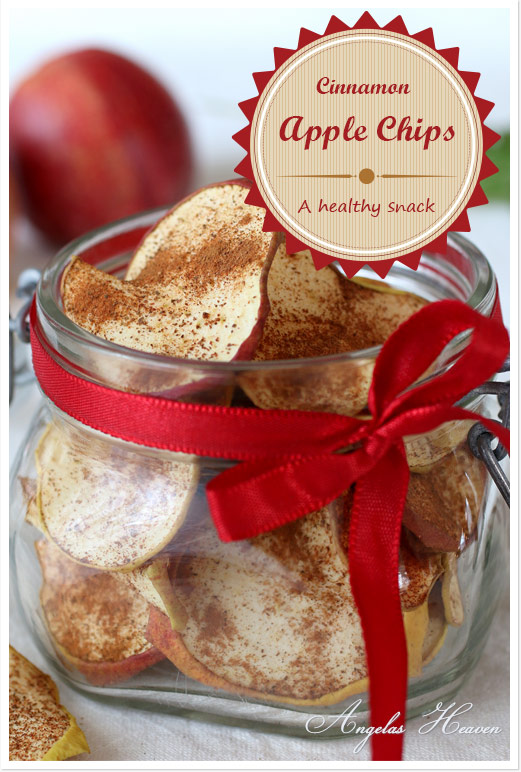 I saw this recipe a couple of weeks ago and thought it was a great idea for a healthy snack. I tried it and it was really good. As the apple slices are dried the flavor is intensified and it becomes much sweeter. You can decide if you want them crisp or a bit chewy by the time you keep them in the oven. They are really easy to make. Just slice the apple in thin slices, add cinnamon and put them in the oven. It will take a few hours but then you will have a healthy, whole food snack for yourself or your children. I had to put the jar with apple chips away to keep my youngest daughter from eating them all at once. She loves them.
We don't have any apples here in Sweden right now since its winter but I'm thinking this must be a great way to preserve the apples in august when garden is full of ripe red apples. We only have one small apple tree but it produces a lot of fruit and the only thing I have done with them so far is apple sauce. One year we had so many jars of apple sauce in our freezer that we could barely fit our ice pack in there.
If you don't have an apple tree of your own ask a friend, a neighbour or find fresh fruit for free online – www.fallingfruit.org . You can also download an  iPhone app that will help you find fresh fruit – neighborhoodfruit.com
Directions
Slice the apples into 1/8-inch pieces.
Transfer to the baking sheets.
Sprinkle with cinnamon.
Dehydrate at 115 degrees F for 8-10 hours or apples are completely dehydrated and crunchy.