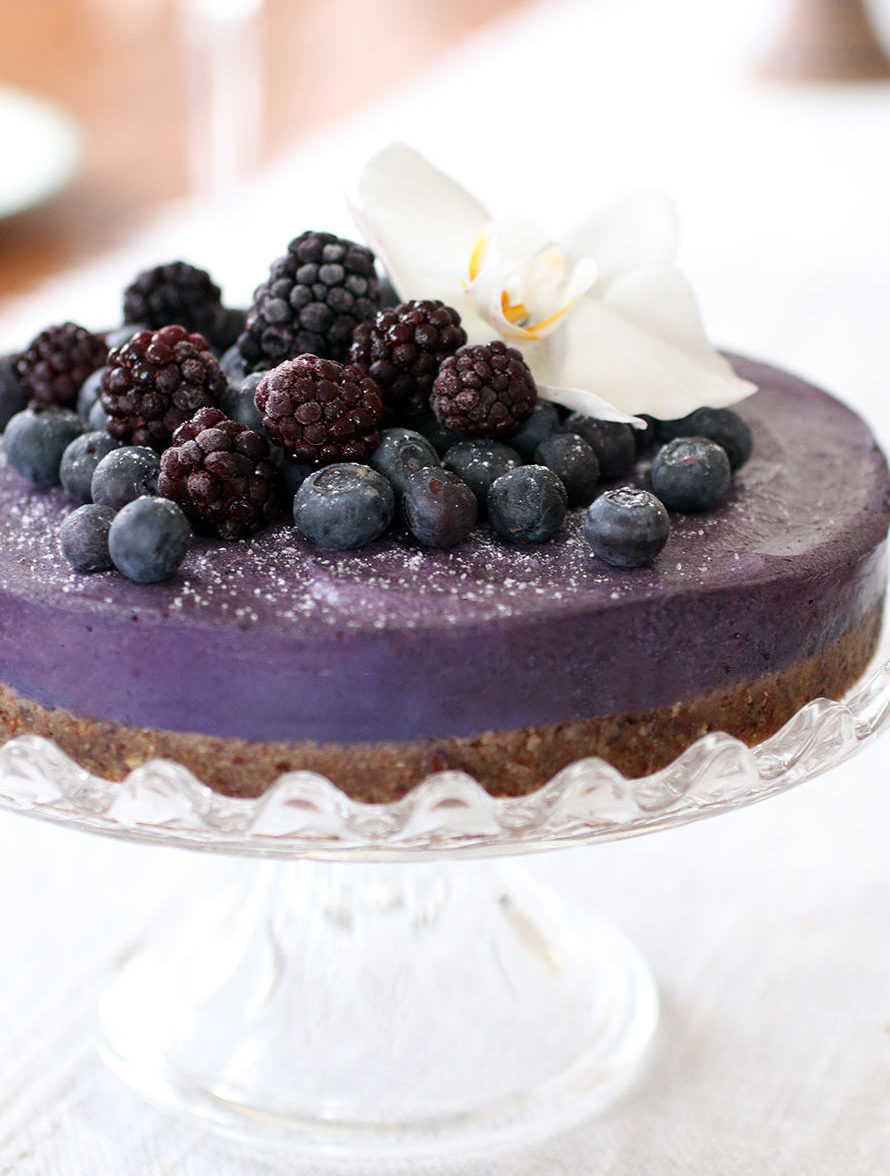 Raw food cake with blueberry mousse
I usually make raw food cakes with chocolate, but today I wanted to try something new. I've never made a raw food cake with fruits before and so today I tried a combination with blueberries, coconut cream, orange zest and cashew nuts. The result…a creamy, fluffy mousse that tasted so good! I could easily have eaten the mousse just as it was with some berries, but I wanted to try and make a crust so I threw in some pecan nuts and my favorite dates – medjool dates – in my blender and blended until I got a soft, crumbly dough. I think it worked really well together with the blueberry mousse. Pecan nuts has a soft, sweet flavor that goes perfectly with any raw food cake, but if you don't have them at home you can also use almonds, walnuts or any other nuts.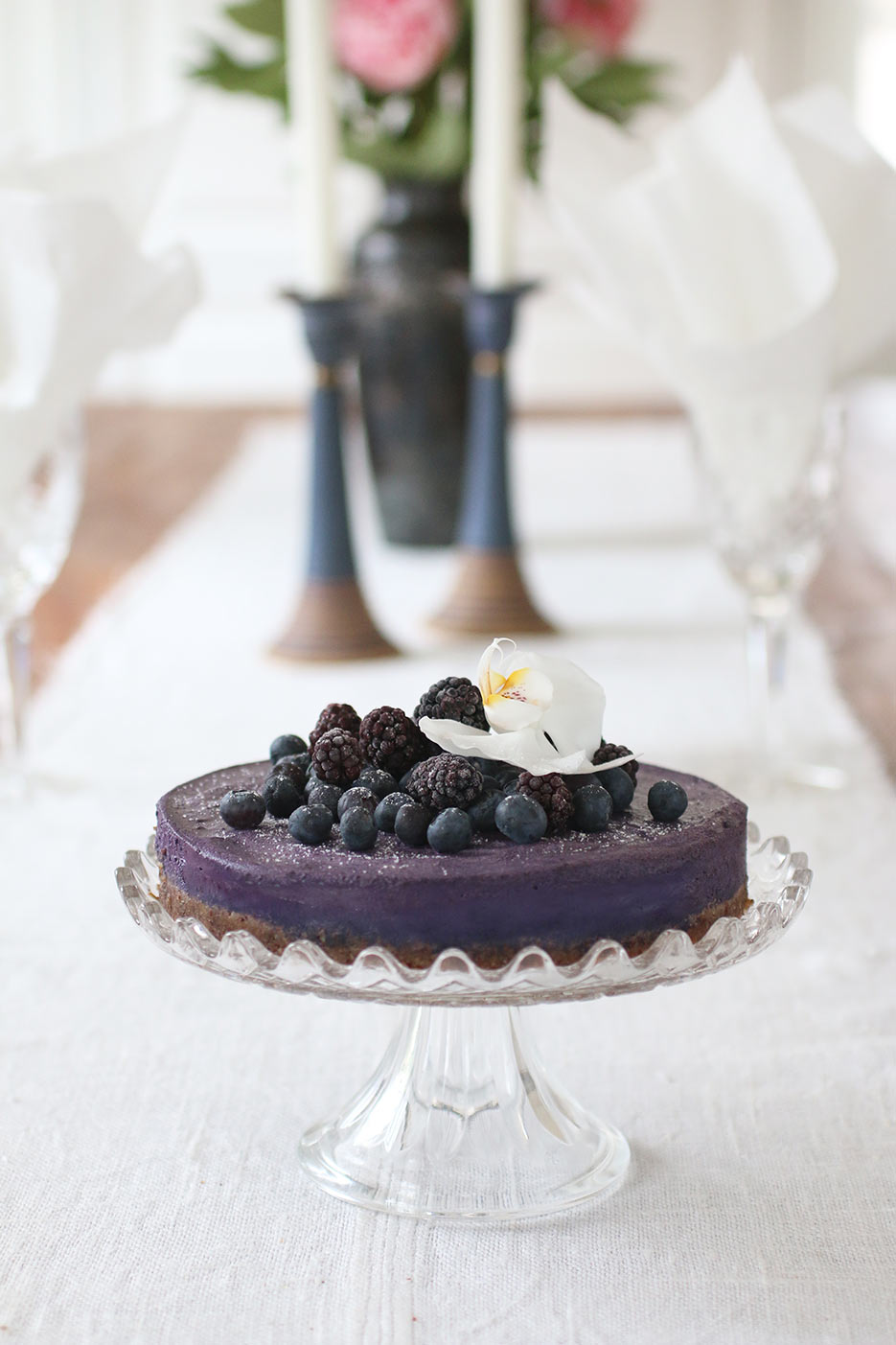 Decorate your cake with blueberries, blackberries and a pretty flower. I used frozen blackberries.
To get the right consistency of the blueberry mousse I added three teaspoons of agar agar, but I think it would have worked just as well with melted coconut oil. I'll have to try that the next time. If you make this cake and use coconut oil instead of agar agar, I'd love to know how it turned out.
Perfect to keep in the freezer
If you'd like you can make this cake and cut small pieces and keep it in the freezer. That way you'll always have something at home when you feel like having a healthy snack. If you take it out of the freezer a while before you're going to serve it you can eat it half frozen and it will taste like ice-cream.
Recipe
Raw Blueberry mousse
1,5 cups cashew nuts
3/4 cup coconut cream
1,5 cups blueberries (I used frozen blueberries)
6 tablespoons agave syrup
zest from 1 organic orange  (2 teaspoons)
1 teaspoon agar agar dissolved in 1/4 cup hot water
Crust
1,5 cups pecan nuts
1/2  cup pitted medjool dates (or other soft, pitted dates)
1 pinch of salt
Directions
Crust
Put pecan nuts, dates and the salt in a blender.
Blend until until it all starts to stick together and you have a soft dough with small pieces of nuts in it. Try to pinch the dough to see if it sticks together. If not – blend a little longer.
Press into the bottom of a springform cake pan, or adjustable pan (I used an adjustable pan set to about 7 inches).
Raw Blueberry mousse
Put the cashews in a blender and process until it becomes smooth and creamy, stopping to scrape down the sides of the bowl every minute or two.
Put the agar agar in a bowl together with hot water. Bring the solution to a boil and allow it to simmer 5 minutes or so. Stir the solution until the Agar is completely dissolved. Let it cool.
Put all of the ingredients for the blueberry mousse in a blender and blend until smooth, thick and creamy.
Pour onto your crust and let it set in the fridge overnight or for at least a couple of hours.
Decorate with fresh blueberries and some fresh organic flowers.