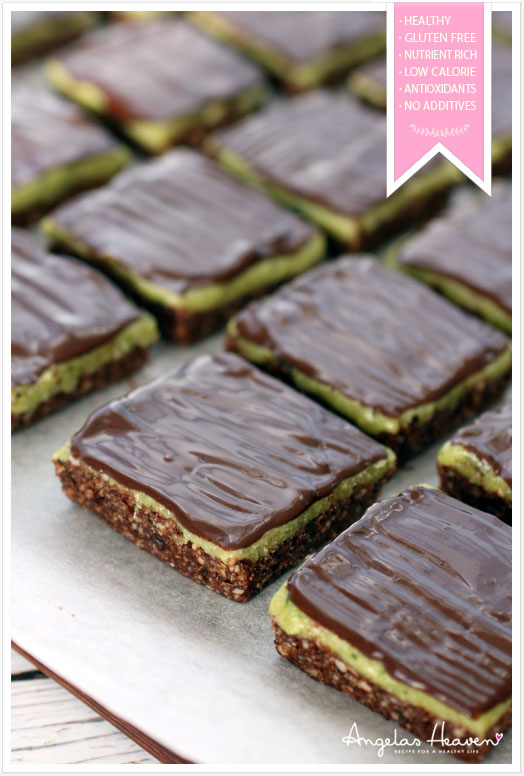 Almond date base, layered with a peppermint cream, topped with dark, crisp chocolate. Completely raw, vegan, sugar-free, gluten free and absolutely delicious! A perfect for dessert for any occasion and it is so good you wouldn't even know it was healthy! These freeze well, so feel free to make them ahead of time and store them in the freezer until ready to serve.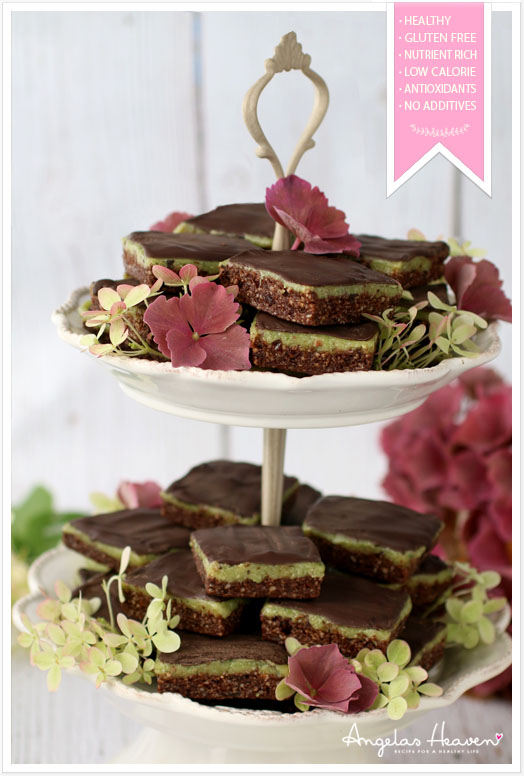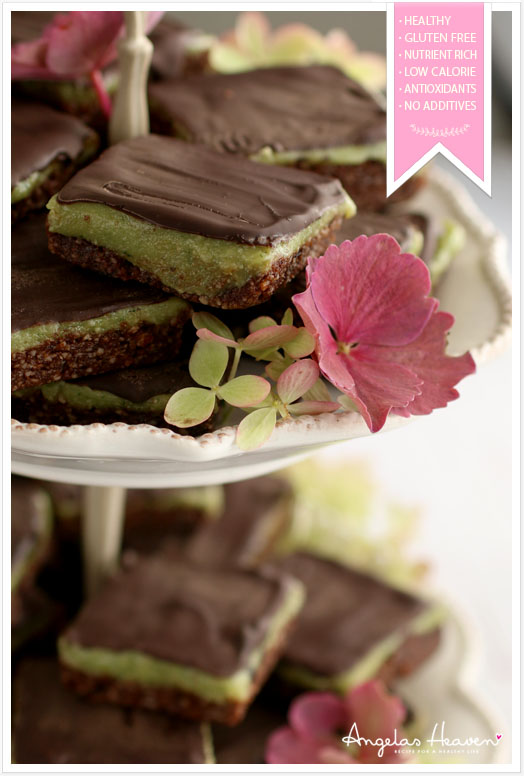 Recipe, 35 pieces
2,5 cups cashew nuts
1 cup baby spinach
3/4 cup agave syrup
2,5 teaspoons peppermint essence
2 cups almonds
3 cups dates (I prefer medjool dates)
6 tablespoons cocoa powder Dark chocolate
Directions Crust
Put the almonds in a blender or food processor to make almond flour. Avoid blending it too long or else you may get a paste-like butter.
Put the almond flour in a separate bow.
Put the dates in a blender and blend until the mixture becomes very smooth and creamy.
Add the dates and cocoa powder to the almond flour. Mix.
Spread the paste evenly on a plate (approx. 30×23 cm) and carefully press firmly using the back of a spatula until base is completely flat and even.
Green  peppermint
Put the cashews in a blender and process until it becomes very smooth and creamy, stopping to scrape down the sides of the bowl every minute or two. Be patient. This will take some time, depending on the strength and size of your blender. After a couple of minutes the natural oils in the cashew nuts will start to come out of and begin to impart creaminess.
Add the baby spinach, agave syrup and peppermint essence. Blend until the mixture becomes smooth and creamy.
Spoon the mixture onto the crust and smooth out with the back of a spoon.
Place in the freezer for about 30 minutes until set.
Cut seven rows lengthwise and five rows across.
Dip the top of the squares (or the whole peppermint bite) in melted chocolate.
Store in an airtight container in the fridge or freezer.