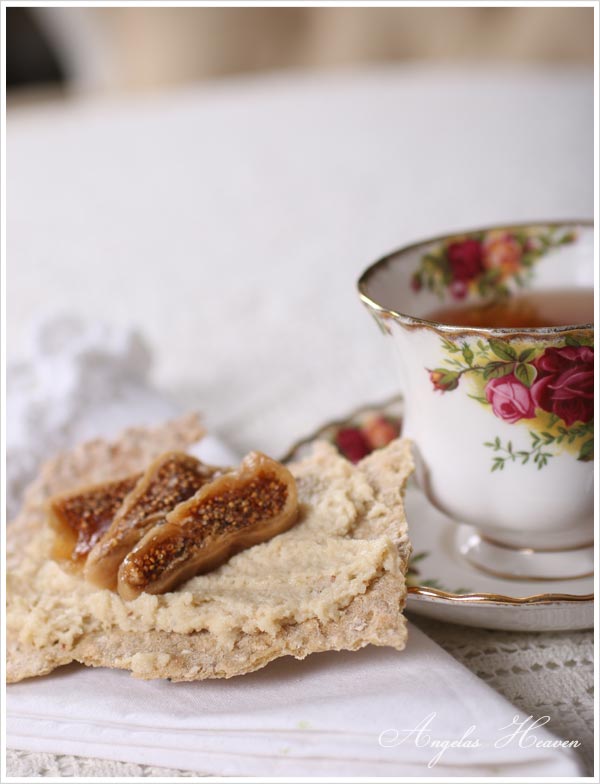 I just love crisp bread. It is the perfect snack to a cup of tea in the afternoon. This is a recipe that I came up with a couple of weeks ago. It´s incredibly simple to make and perfect with any sort of cheese, jam or topping you can think of.
Recipe
1 cup boiled water
1 cup Rolled oats
1/2 cup Buckwheat flour
1/2 cup Corn flour
1 tablespoon psyllium husk
A pinch of salt
Directions
Put all the ingredients in a large bowl and knead until smooth. Roll into five balls.
Heavily flour your work surface and roll out the ball of dough as thin as possible.
Use a notched rolling pin or prick holes over each crisp bread using a fork.
Use plenty of flour and make sure the dough does not stick to the work surface.
Turn the dough several times and roll on both sides to keep it from sticking to the surface
(if it does, use a knife to loosen it).
Transfer the rolled-out dough to a baking tray and sprinkle some flake salt on it.
Repeat. (You will probably need to bake in batches.)
Bake at 350 degrees F (175 degrees C) for 10 to 12 minutes until the crispbreads just start to color.
Keep an eye on the oven as they can burn easily. Repeat for the next batch.
If the crisp breads are not crisp enough, at the end turn off the oven and let the bread dry out at a very low temperature. You might need to keep the oven door slightly open in the beginning.
Store in an airtight container.