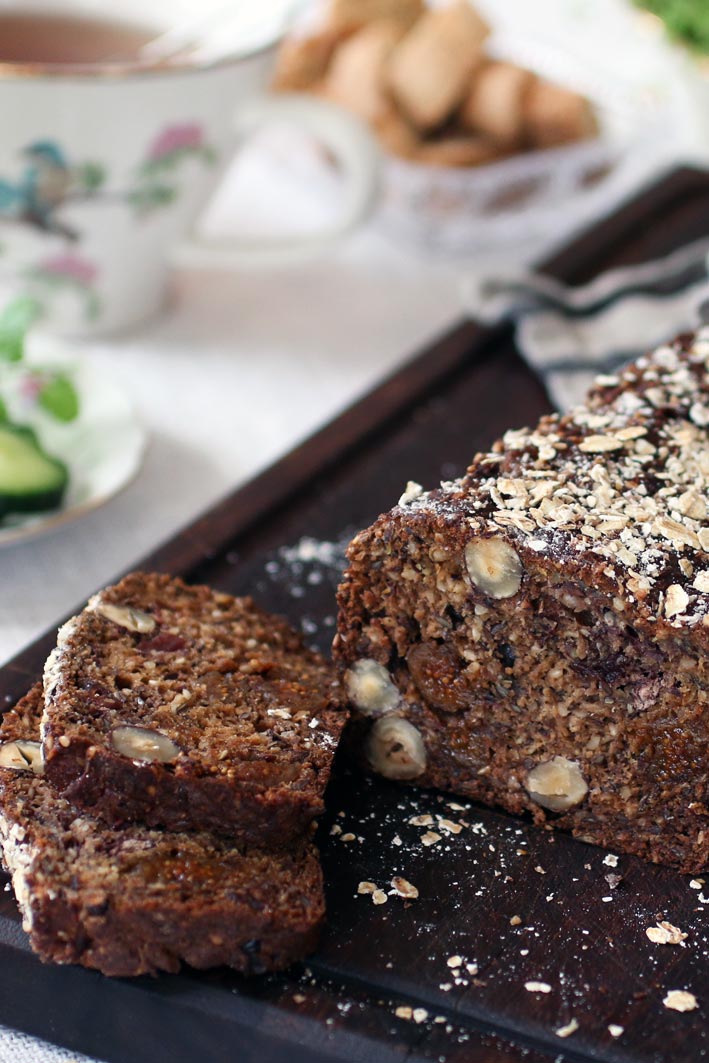 I am so pleased with how this bread came out. It's not at all how I expected it to be. I thought beans would make it moist and heavy, but it turns out it made it light and fluffy. I've already made this bread three times and the last time I doubled the amount of ingredients so that I would have two loafs instead of one. They seem to disappear very quickly from the freeze. =)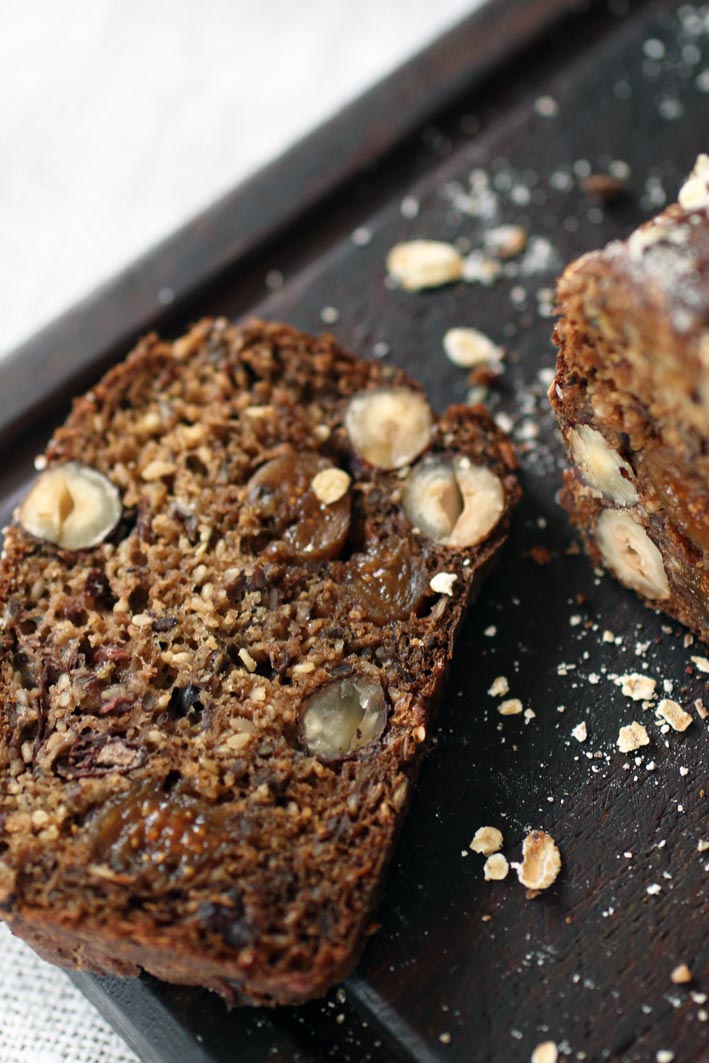 If you want you can substitute the dried apricot with any dried fruit like raisins, dates, mullberries or any other sweet berry. The same goes for the seeds and nuts. Feel free to combine the nuts and seeds of your choice. It's really just a matter of preference which ones you want to add to the bread.
My favorite ingredient – besides the black beans – are hazelnuts. I just love the taste of toasted hazelnuts. I think they add a nice texture to the bread and the flavor is so good.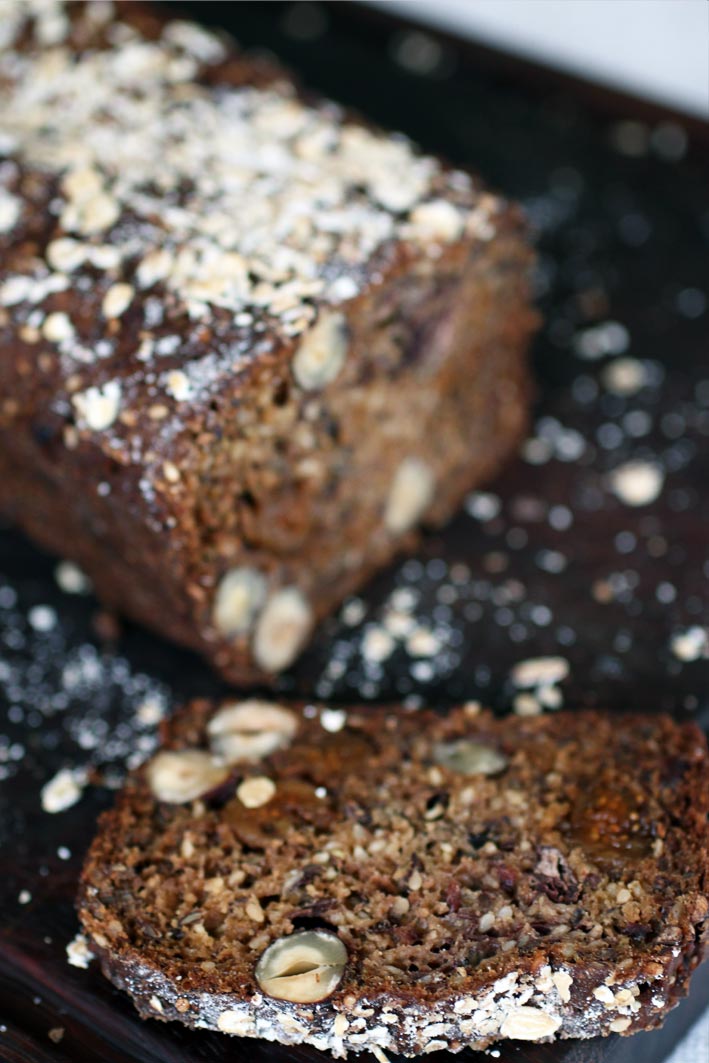 I'm not a fan of most gluten free breads you will find in regular stores. That's why I make my own bread. It's much healthier and it tastes better. Most store bought gluten free bread is mostly based on starch and doesn't contain much nutrition. This bread is packed with flavor, vitamins, healthy fats, protein and vitamins.
I'm pretty sure someone who's not intolerant to gluten would love this bread too. It's impossible to know it's gluten free. It tastes just like a regular homemade bread and don't be frightened by it's dark brown color. It's the black beans that gives this gluten free bread it's dark shade of brown. The flavor and texture is still very much like a regular loaf of bread.
I hope you will enjoy this as much as I do. I would love it if you leave a comment down below and let me know what your thoughts are on this recipe.
Lots of love,
Angela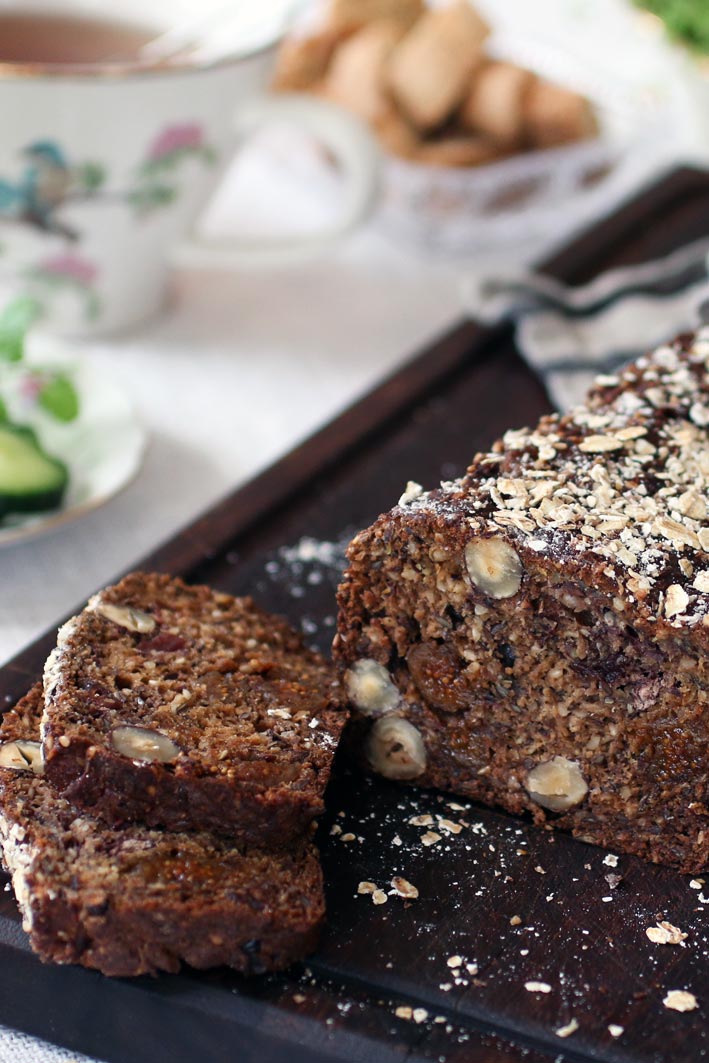 Print Recipe
Amazing Gluten-Free Bean Bread
Ingredients
380 g Cooked black beans

0,5 cups flaxseeds

0,5 cups sesame seeds

1 tablespoon psyllium husk

3/4 cup + 2 tablespoons hot water

1/4 cup honey

1 cup+ 1/4 cup gluten free oat flour

2 teaspoons bicarbonate

1 1/2 teaspoon salt

1 1/2 dl yoghurt (3%)

0.8 cups nuts - hazel- and/or walnuts

0.4 cups sliced dried apricots
Instructions
1
Preheat oven to 200C/400ºF.
2
Process beans in a blender or food processor until smooth.
3
In a separate bowl, add flaxseeds, sesame seeds and psyllium husk.
4
Pour over the hot water and honey. Let sit for 10 minutes.
5
Add oat flour, bicarbonate, salt, the flaxseed mixture, the beans and yogurt.
6
Stir in until smooth and add the apricots and nuts.
7
Line a loaf pan with parchment paper and pour the dough into it. Sprinkle some oat flour on top.
8
Bake for 60 minutes and cover with a baking dish or aluminum foil when it has a nice brown color.
9
Let the bread cool off for 30 minutes in the bread pan.