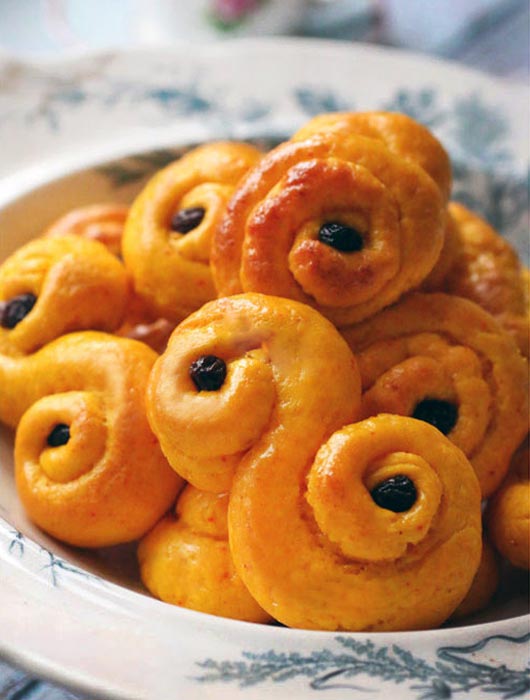 Saffron (Lucia) buns with almond paste
I enjoy Christmas baking so much and this year I wanted to try something new. I always make saffron buns and this time I added some grated almond paste in the dough to make them extra moist and it turned out really great. The saffron buns were sweet, moist with a flavor of both saffron and almond. This recipe is a definately keeper.
Lucia Buns are, as the name suggests, traditionallay eaten at Lucia celebrations on 13 December in Sweden. These fragrant saffron buns are delicius with a coffee, hot chocolate or glögg/Swedish mulled wine. (Find the recipe for mulled wine here >> ) 
Lucia
The annual candlelit Lucia procession on 13 December is perhaps one of the more exotic-looking Swedish customs. During the longest and darkest evening in Sweden the lights of the Lucia, and the delicious saffron buns, is a cherished celebration.
Lucia is an ancient mythical figure with an abiding role as a bearer of light in the dark Swedish winters. With candles in her hair she is the most important figure in the so called Lucia train, which is a group of people singing Christmas songs together. Behind Lucia there are usually handmaidens, who are dressed in white gowns and carrying candles in their hands. Besides the beautiful singing, the Lucia celebrations also include ginger bread and saffron buns that you eat together with glögg or coffee.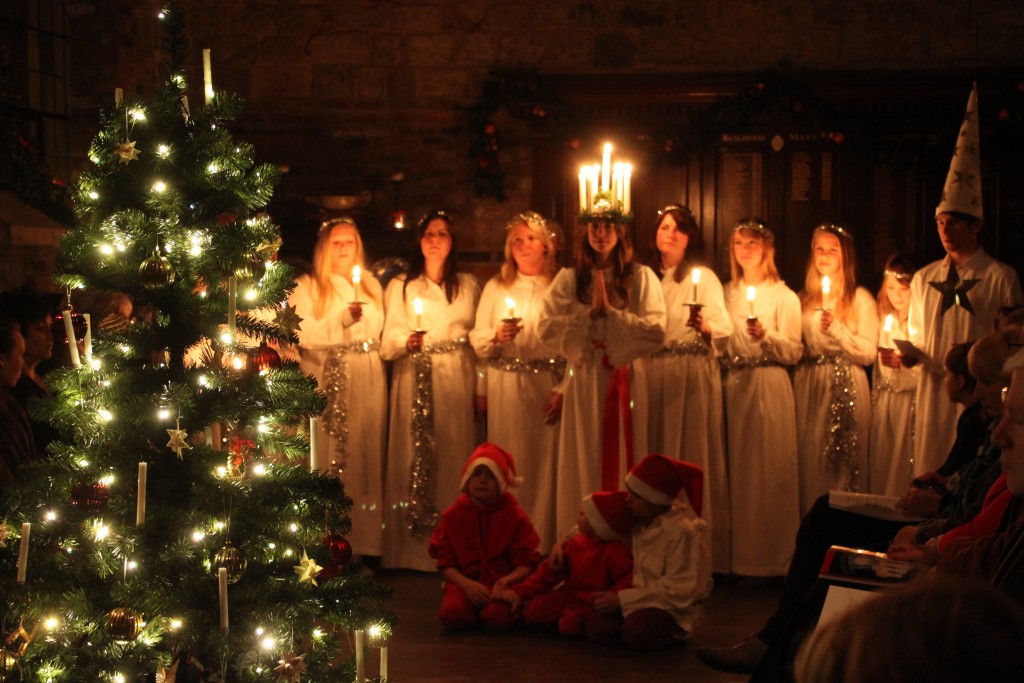 Recipe
75 g butter
200 ml milk
50g yeast
2 teaspoons psyllium husk
0,5 cup quark or sour cream
0,5 cup white sugar
1 egg
0,5 g saffron
100g grated almond paste
250 g gluten free flour  (save 3/4 cup to flour the work surface)
A pinch of salt
Raisins
Directions
Melt

the butter in a small saucepan.

Add the milk and let it cool until the temperature has reached 100 degrees F (38 degrees C).

Crumble the yeast into the bowl with butter and milk. Stir well until the yeast dissolves completely.

Add the psyllium husk and stirr well to avoid lumps. Set aside for 10 minutes.
Add

the quark, saffron, sugar, salt, almond paste and most of the flour. Mix the dough in the bowl until it becomes shiny and silky, adding more flour as needed until it begins to come away from the sides of the bowl. Cover, and let rise* for 60 minutes.

Prepare 2 baking sheets by covering each with a sheet of parchment paper. Lightly flour a work surface, punch down the dough, then divide into 20 pieces. Roll each piece into a rope, 5 to 6 inches long. With the rope lying flat on the work surface, roll each end towards the center, in opposite directions, creating a curled S-shape. Place the buns on the prepared baking sheets, and garnish with raisins. Cover with a towel, and allow to rise* for an additional 30 minutes while you preheat oven to 485 degrees F , 250 degrees C.

Gently brush each bun with beaten egg, then bake in the oven until puffed and golden, 5 to 7 minutes.
*  Gluten free doughs can be difficult to rise. Make sure the saffron buns rise in a warm, draft-free place. I always put my dough in the oven on the lowest temperature to make it raise. Keep the oven door open a little so it doesn't get too hot.
It is particularly important for yeast recipes that you bring all of your ingredients, such as eggs, to room temperature before adding them together to make bread.  Yeast needs warmth to grow and if your ingredients are too cold, it may prevent full yeast growth.
It is essential when converting wheat-based bread recipes to gluten-free, that you not follow the directions. Break all the wheat/gluten dough rules when baking gluten-free bread! Any kneading beyond simply mixing the dough well, and any punching down of the gluten-free dough will punch the risen life right out of it. Those steps are designed to exercise the gluten and make it more elastic. We have no gluten in our recipes, so nothing to exercise, and more than that, these steps will actually cause your gluten-free recipe to fail.