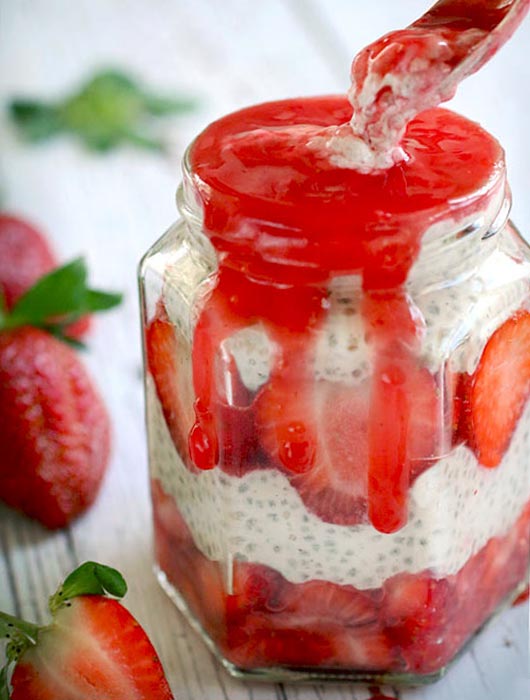 I have finally tried making chia pudding and I think this is going to become one of my favorite breakfasts from now on. It is so easy to make. You just combine the ingredients before you go to bed and when you wake up you have a delicious chia seed vanilla pudding. Use whatever topping you prefer. Fresh berries, slices of banana, goji berries, coconut and kiwi…whatever you like. You can even add a little cocoa powder in the liquid and you will get a nice chocolate pudding.
This chia seed pudding is satisfying enough for me to last until lunch and it is full of vitamins, minerals, omega 3´s, calcium and protein. Chia seeds are a superfood.
It's also gluten-free, dairy free and vegetarian.
You can double the recipe and keep it in your refrigerator so that you have breakfast for a few days in a row.
Read more about the amazing health benefits of chia seeds here. >>
Recipe, two servings
1/2 cup cashews
1 cup water
¼ cup chia seeds
½ teaspoon vanilla extract
1 tablespoon agave syrup (optional)
Directions
Put the cashews, water, agave syrup and vanilla extract in a blender.
Mix well until combined.
Add the chia seeds and stir well to avoid lumps.
Pour into two bowls.
The chiapudding is ready to be served in 15 minutes.
Top with fresh fruit of your choice.