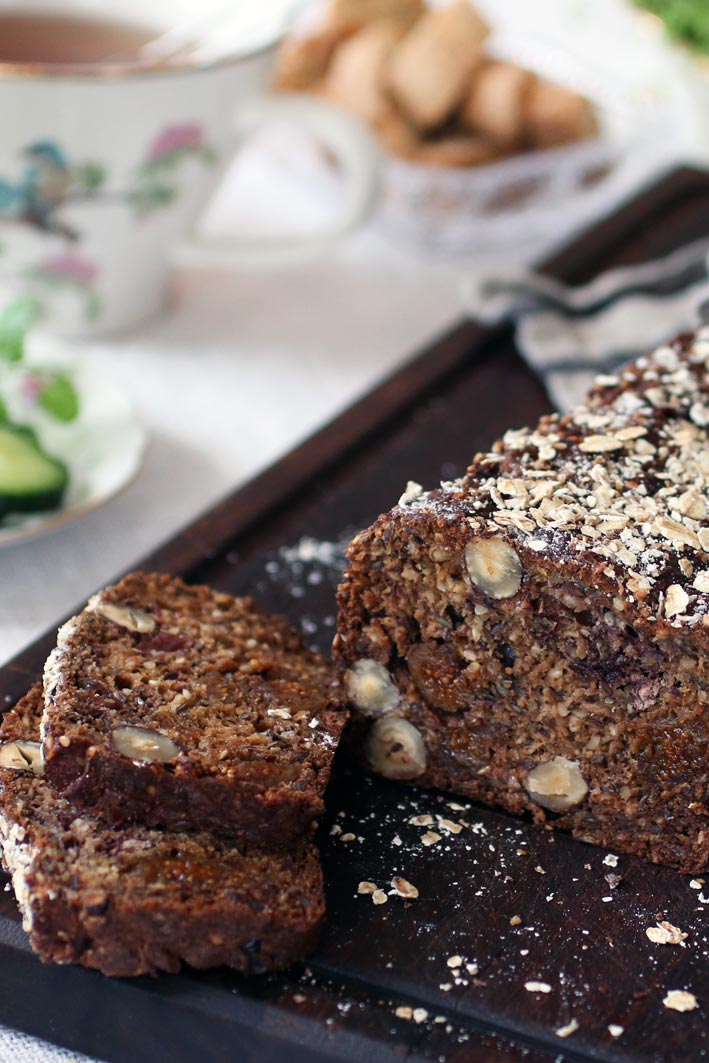 I enjoy eating bread and this bread is one of the best ones I've made so far. It's filled with delicious, crisp hazelnuts and soft, sweet figs. I love it! There's no comparing to any other gluten free breads I've ever made. It's so soft and moist and the flavor reminds me a bit about christmas.
Recipe, 1 bread
3 ounces of crushed flaxseed
3 ounces sesame seeds
2 tablespoons psyllium husk
10 ounces of boiling water
7 ounces Sorghum flour
7 ounces Brown Rice Flour
25 grams of yeast / dry yeast
1/4 cup cornstarch or corn flour
2 tsp baking soda
1 teaspoon salt
½ teaspoon bread spices
7 ounces sour milk (or oat cream)
3 ounces of real maple syrup or honey
3 ounces of roasted hazelnuts
3 ounces of pumpkin seeds
3 ounces shredded figs and dates
Directions

Mix psyllium husk, flax seeds and sesame seeds in a bowl and pour over the boiling water.
Mix well and allow the mixture to swell for 15 minutes.
Mix the flour, baking soda and salt in another bowl. In case you use dry yeast you should insert it now and mix thoroughly into the flour.
Add the buttermilk ( If you use conventional yeast crumble it down now).
Use a dough mixer or whisk with electric mixer until all of the yeast  is carefully distributed in the dough.
Add the maple syrup and finally the nuts and figs / dates. The dough should be sticky but not runny. Are the dough to dry add more sour milk.
Pour the batter into a greased loaf pan.
Let the dough rise covered with a towel for 80 minutes.
Preheat the oven to 400 F (200 C). Bake in the lower part for about 50-60 minutes.
Let the bread cool completely before cutting into it.