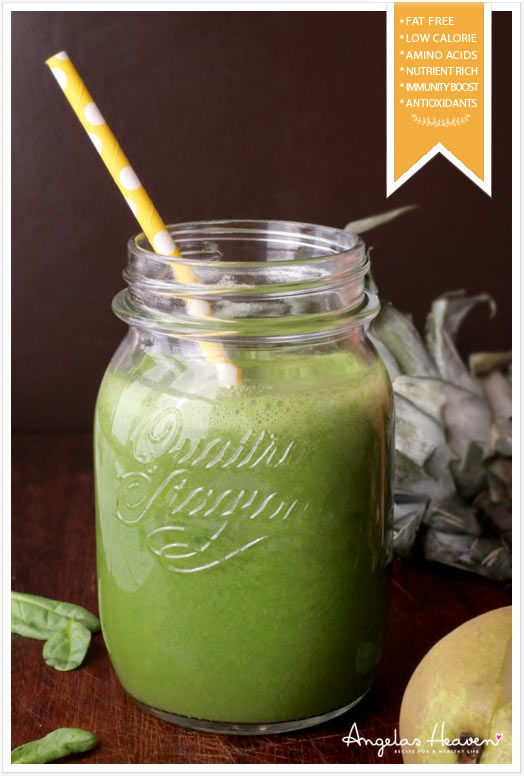 With only five ingredients this recipe is a perfect option for busy mornings or a post-workout snack. Made with fresh spinach leaves, apple, pear, baby spinach and fresh pineapple. It's both refreshing and filling.
The creamy, blended avocado gives this green smoothie plenty of filling essential fatty acids and it will keep you energized for hours. The spinach helps to purify our blood, thanks to its high level of chlorophyll and is also a great source of antioxidants, copper, zinc, selenium and more.
Adding tropical fruits to a green smoothie is usually one of the best ways to get children to drink some too, since the tastes of things like pineapple cancel out any bitterness from the greens.
Probably the most perfect way to drink your veggies and in a wonderfully tropical drink.
Extras?
Cinnamon and ginger give your smoothie a warm flavor.
Frozen bananas are a natural sweetener – the more frozen banana you add the sweeter and more satisfying your smoothie will be. 
Spinach and swiss chard are the most mild tasting greens. Baby kale is more mild than mature kale.
Recipe
1 apple
1 pear
1 cup baby spinach
1/2 cup fresh pinapple
1/2 avocado
Directions
Process the apple and pear through a juicer. (No juicer? No problem. Learn how to juice without a juicer on the bottom of this page.)
Place all of the ingredients in a blender and blend until smooth. Pour in a glass and serve.
How to Juice Without a Juicer
It's really quite simple. All you need is a blender, a bowl and a fine mesh strainer.
Directions
Clean your organic fruits and vegetables thourougly.
Blend well in a blender (about 1 or 2 mins).
Once everything is blended, pour your the mixture into the mesh strainer (which is set over a bowl) or through a nut milk bag and use a rubber spatula to press the pulp down and squeeze all of the juice out.
Enjoy your beautiful juice immediately – do not store the juice for later if you want to get the most nutrition from the juice. This blending method produces some heat and oxidizes your juice more than cold-press juicers.
SMOOTHIE TIPS!
Make your smoothie a little more satisfying. Pour the smoothie in a bowl and add your favorite toppings like nuts, seeds, berries, granola, coconut shavings.