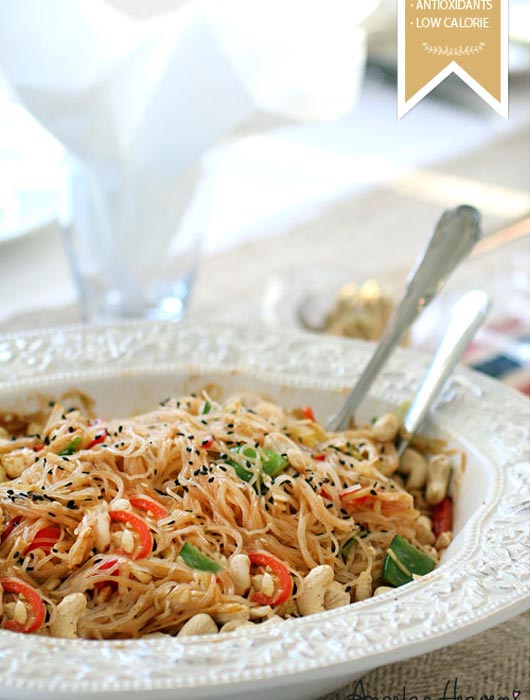 Making a healthy vegan wok without turning on the stove.
I recently tried two healthy, low carb alternatives to ordinary noodles. Mung bean noodles and shirtaki noodles. They are both gluten free, fat free, vegan with a low glycemic index, meaning they don't cause a spike in blood sugar. They are both a great alternative to pasta and noodles for everyone who want to avoid gluten and/or want a low carb alternative.
Mung bean noodles have a great texture – almost like angel hair pasta and even though they dont provide a lot of nutrition I often use them with lots of vegetables. I love the texture.
Shirtaki noodles have been used in Japan for years. They contain almost no calories, fat, sugar, protein, or gluten and they are low carb. Shirataki noodles contain are almost entirely made of fiber and they keep you full for a long time, so they can help if you are trying to lose weight. They are the healthiest noodle, but in my opinion the texture is too rubbery. They have a somewhat gelatinous consistency that is difficult to get used to, but if you do like them they are a great healthy, gluten free alternative to pasta and regular noodles.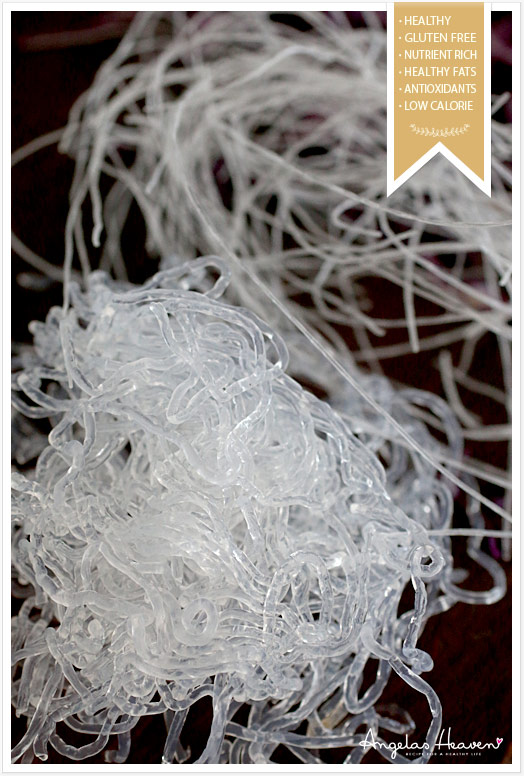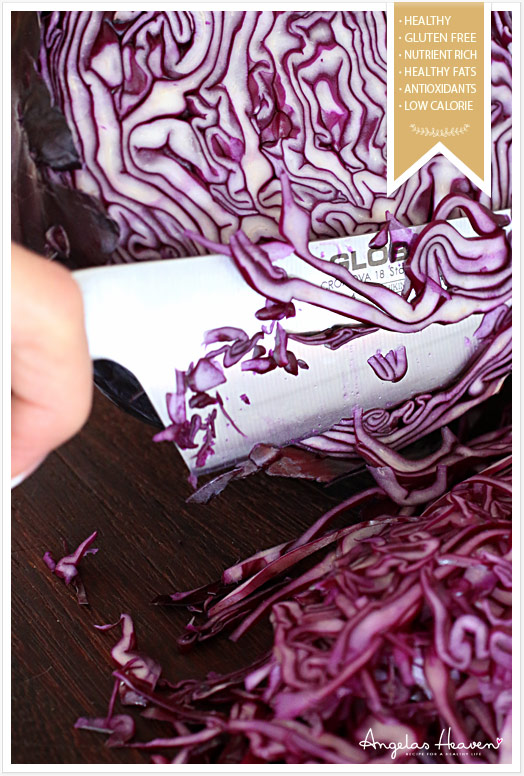 You can use red or white cabbage.
Recipe
Creamy spicy peanutbutter sauce
Mung bean noodles
White cabbage
Cashew nuts
Vegetables of your choice. I used red bell peppers, sugar snap peas and leek.
Directions
Slice the cabbage as finely as possible.
Slice the leek as finely as possible.
Slice the bell peppers in thin slices.
Shop the sugar snap peas into bite-size pieces.
Put the cabbage and vegetables in a big bowl.
Add as much peanut butter sauce as you like and use your hands to massage the cabbage to make it softer.
Let the vegetables rest for at least one hour. This way they will become soft, moist and they will soak up all the great flavors in the sauce. You can also prepare this one day in advance.
Put the noodles in a bowl and pour hot water over them. Let them soak for a couple of minutes until tender.
Rinse the noodles and add them to the vegetables.
Add cashew nuts and sprinkle with sesame seeds.