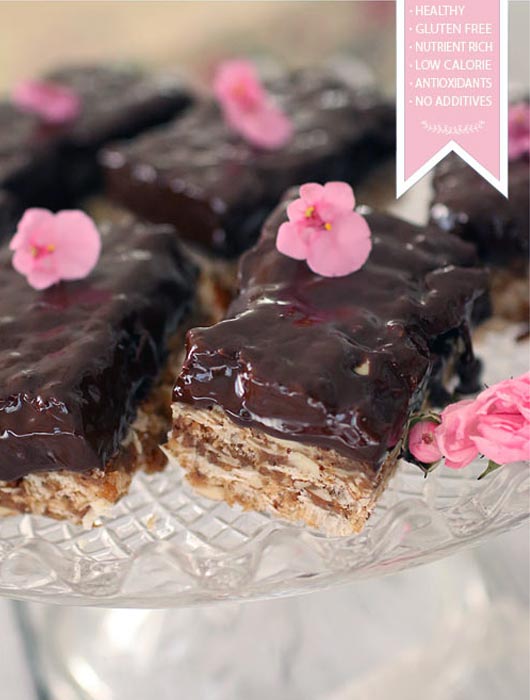 When our oldest daughter started a new school this autumn she wanted to bring a healthy snack, so I tried a new recipe of healthy energy bars with peanut butter. They are so yummy and easy to bring with you. I've tried making healthy bars before, but this time I really succeeded. This peanut butter bar is soft with crunchy bits of Rice Krispies and almonds and they have just the right amount of sweetness.
The first batch only lasted a few days. It was meant for her to bring one to school each day but the family couldn't resist eating them so they disappeared quickly. It didn't matter so much because they were really easy to make. It's basically only mixing the ingredients, pour it down in a mold, put them in the freezer for an hour and then cutting them.
Ingredients
1,5 cups pitted dates
1 cup peanut butter
2 cups almonds
1,5 cups rolled oats
1 cup Rice Krispies
1/4 cup agave syrup
4 tablespoons coconut oil
0,5 tea spoon salt
Dark chocolate
Directions
Put the peanut butter and the dates in a blender and blend until smooth.
Heat a frying pan to low temperature, add the almonds and stir frequently for a couple of minutes. No oil is needed. Remove them just before they become golden brown.
Place the almonds on a chopping board and chop them coarsely.
Put all of the ingredients in a large bowl. Use your hands and mix until well combined.
Transfer the mixture to a 9 x 12-inch (or similarly sized pan) that has been lined with plastic wrap.
Set aside in the freezer for an hour or more to harden.

Using plastic wrap to lift, remove bars from pan. Cut into 4 rows by 4 rows.

Dip each bite in melted chocolate.

Store tightly covered.