Raw food chocolate mousse cake
Baking cakes has always been one of my favorite things to do. Ever since I was a child I've always loved being in the kitchen baking and making a mess. It wasn't always a success, but it was always so much fun being surrounded with flour, kitchen tools, and dough all the way up to my elbows.
One of my most cherished childhood memories is coming home from school and be greeted by my grandmother. She was always at home baking and cooking. I can still remember the smell of newly baked bread and cinnamon bun rolls as I think of her. My favorite smell is cardamon. Whenever I smell cardamon it brings back memories of my grandmother, the farm, the animals, all of those summer days running around barefoot and playing with my friends.
Today when I'm in my own kitchen I often think about my grandmother is the person who inspired me and helped me love food and cooking. It's almost as she's with me as I'm trying new recipes. This raw chocolate mousse cake recipe is something I came up with last week as I was preparing for my raw food class this week. It turned out really good and it might actually be one of my most delicious rawfood cakes I've made so far (and I've made a lot of cakes =).
It's made with a layer of coconut and a vegan, smooth, creamy chocolate mousse on top. The combination chocolate/coconut is so good and the dark chocolate mousse is just divine.
The raw chocolate mousse would be great as a filling to other cakes and desserts as well. It's heavenly just as it is and I could easily have eaten it all at once directly from the blender jar.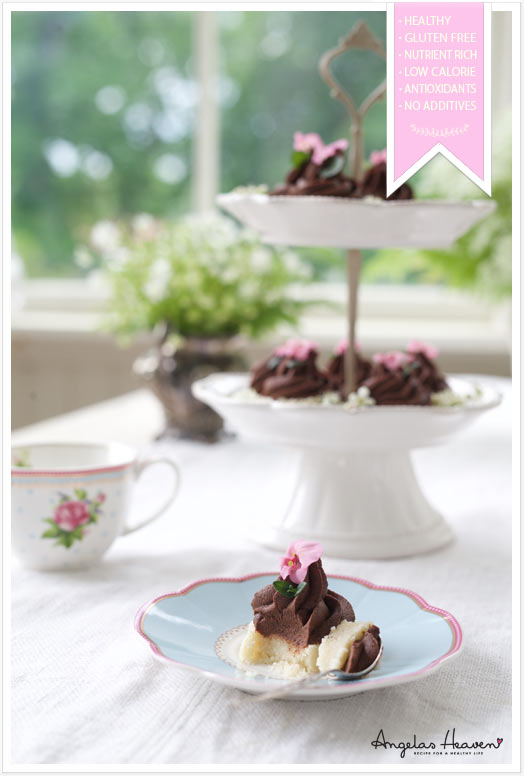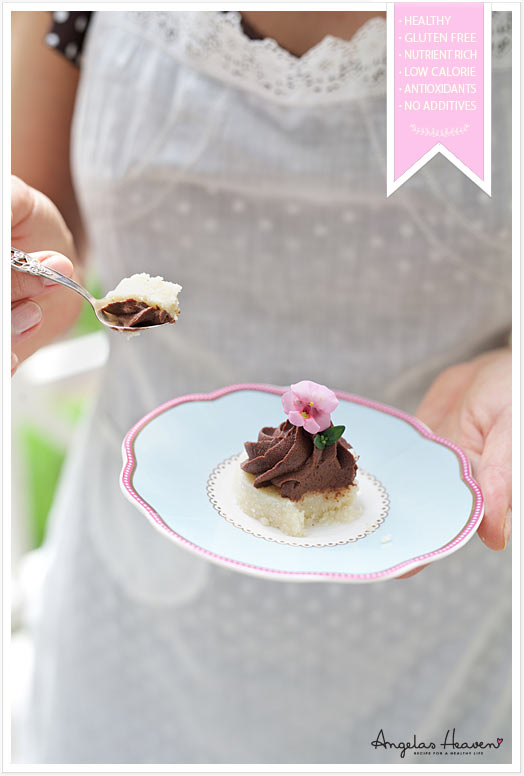 Recipe, 15 Raw chocolate mousse cakes
Crust
2 cups Shredded coconut
2 tablespoons Agave syrup
0,5 cups Cashew nuts
4 tablespoons Water
Chocolate mousse
100g Dark chocolate, melted
1,5 cups Medjool dates
2/4 cups coconut cream (not milk)
2 tablespoons coconut sugar or agave syrup
2 tablespoons Cacao powder
A pinch of salt
Directions
Crust
Put the cashews in a blender and process until it becomes smooth and creamy, stopping to scrape down the sides of the bowl every minute or two.
When the nut butter is creamy and smooth – add the shredded coconut, the agave syrup and water.
Blend until the dough is firm and sticks together.
Roll the dough into a cylinder that is 19 cm/7,5 inches long.
Put the cylinder in the freezer for 40 minutes which makes it much easier to cut them into even sized pieces.
Take out the dough and cut 15 pieces and place them on a plate.
Chocolate mousse
Melt the chocolate.
Put the dates in a blender and and puree until smooth.
Add the melted chocolate, the coconut cream, the coconut sugar or agave syrup, the cacao powder and a pinch of salt.
Blend well a couple of minutes until the chocolate mousse is smooth.
Pour the chocolate mousse in a piping bag and decorate each coconut crust with chocolate mousse.
Keep in the fridge until you are ready to serve and decorate with fresh flowers of your choice.