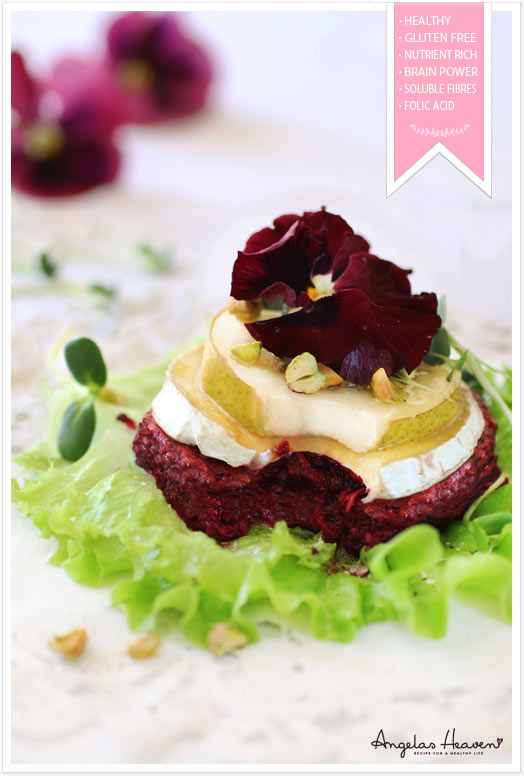 Beetroots with chèvre and honey are definitely one of my favourite flavors together. I just love it. In this recipe I've combined beetroot with finely chopped sweet pear and some slightly melted chèvre cheese served with some fresh salad…so good…..and it's so easy to make. You have to try it!
Besides tasting great beetroots are also super healthy…
Top reasons to eat more beetroots…
Beetroots lower blood pressure. Beets contain high amounts of nitrates, which allows the body to produce a gas called nitric oxide in the blood. It relaxes and widens the blood vessels and allows a greater circulation of blood.
Beetroots are nature's Viagra. Beets contain high amounts of boron, which is directly related to the production of human sex hormones.
Beetroots fight inflammation
Beetroots supports detoxification. Beetroots helps the liver and works as a purifier for the blood.

Beetroots make you happy. Beets contain tryptophan, which relaxes the mind and creates a sense of well-being, similar to chocolate.
Beetroots are great for pregnant women. Beetroots has an abundant supply of folic acid. Folic acid is an essential component for the proper formation of the unborn child's spinal cord, and can protect the child from conditions such as spina bifida.
Beetroots protects against cancer. Beetroot also contains a powerful antioxidant called betacyanin – it's the pigment that gives the root the reddish shade. Researchers at Howard University, Washington, found that betacyanin slowed the growth of prostate and breast cancer cells by 12.5 percent.
Beetroots lower cholesterol. Beetroot contains soluble fibre, carotenoids and flavonoid – which have been linked to helping lower cholesterol.
Don't throw away the greens
The green tops are edible and they are the healthiest part of the plant. Beet greens actually have even more iron than spinach as well as a higher nutritional value overall than the beetroot itself. Besides containing important nutrients like protein, phosphorus, zinc, fiber, vitamin B6, magnesium, potassium, copper, and manganese, beet greens also supply significant amounts of vitamin A, vitamin C, calcium, and iron.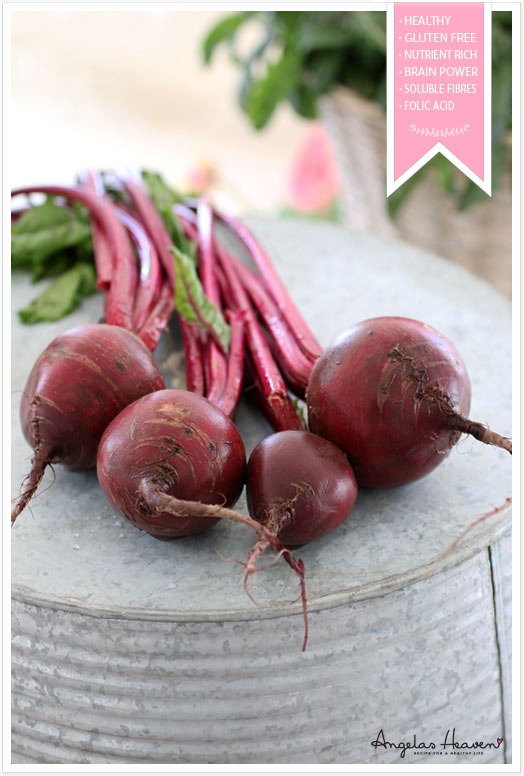 How to use the green tops
Add them to your fresh vegetable juice.
Smoothies are a great way to use green vegetable tops. Try adding just a little to start with and see how you like it before adding a lot more.
Cut them into very small pieces and use them in your salad. they taste great when combined with feta cheese and nuts.
Blanche the greens. The flavor of the greens can be a bit bitter and by blanching the greens you remove any bitter taste. To blanch the greens, bring a large pot of water to a rapid boil and drop the greens in. Stir them around for just a few minutes. Don't cook them too long or they will lose their nutrition and color. Transfer the greens to a colander and run cold water over them for a minute. This will stop the cooking process and help them keep that beautiful color.
Sauté them in a small amount of olive oil with minced garlic.
Make a mineral-rich vibrant, creamy pesto by using greens from your vegetables.
Garnish your dishes with finely chopped greens.
Drink your beets!
I make at least one juice or smoothie every day. Its a great (and easy) way to get lots of vitamins and minerals in just one glass. You can drink it anytime during the day and if you want to bring it with you to school, gym or work you can keep it in a thermos or a glass container.
Can babies eat beetroot?
Beetroots have high amount of nitrates which can be difficult for infants to digest. Guidelines in the US suggests 8 months of age as an age of introduction.
Recipe
2 cups grated beetroot
1/2 cup oatmeal flour
2 eggs
1/2 cup grated onion
1 teaspoon salt
1 teaspoon sambal oelek
pepper
chèvre cheese
1 sweet, soft pear, finely chopped
1 handful pistachio nuts
Lettuce
Directions
Preheat the oven to 375 degrees.
Combine the grated beetroot, oatmeal, eggs, sambal oelek, onion and two tablespoons chevré in a bowl.
Season with salt and a few grindings of pepper.
To make the burgers, form patties with your hands.
Fry the burgers over low heat until just browned – 2–3 minutes on each side.
Transfer to an ovenproof dish and bake in the preheated oven for 20 minutes or less depending on how thick the burgers are. The thicker you make them, the longer they'll take to cook through. Thinner patties will cook faster.
For the last 5 minutes of cooking put one slice of chèvre on each burger.
Serve on small buns or atop mixed greens and sprinkle with pear, pistachio nuts and honey.
For a quicker cook time – form into thinner patties and fry in a skillet over medium heat. Cook until brown on both sides – 3-4 minutes each. This method will give the patties a nice crust but they will be softer and less well done in the middle.