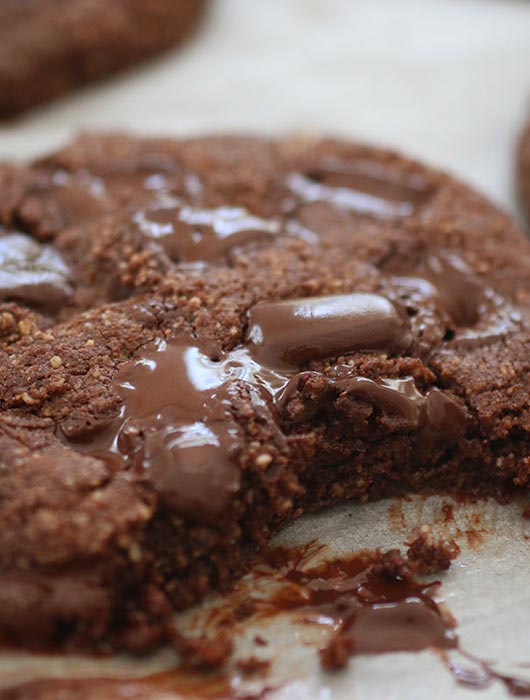 Are you ready for some perfect chocolate chip cookies that taste out of this world?
I've been thinking about making chocolate chip cookies for a while now and last week after googling and searching I found this recipe on "Texanerin Baking" . The pictures of her chocolate chip cookies were so beautiful that I couldn't resist baking them and they turned out to be just as tasty as they looked. These cookies are bursting with flavor and sure to be your new favorite healthy indulgence. This is the perfect gluten free chocolate chip cookie recipe that I can bake again and again for years.
You must have a look at this amazing blog (You'll find it here >>). It's filled with cookies, desserts and lots of other healthy recipes that all look so good. All of Erins recipes are gluten-free, grain-free, mostly dairy free and / or paleo.
More chocolate…
After I had made the dough, I wanted to know what the cookies tasted like so I put a piece of the dough in the oven and I noticed two things…I wanted to have a liiiittle more sweetness and little more chocolate. I added 3 tablespoons of coconut sugar and some cocoa powder…..perfect!
Soft and chewy or thin and crisp?
The first time I made the chocolate chip cookies I let them stay in the oven for 15 minutes just as the recipe says and they were slightly crunchy at the edges with gooey centers. The second time I let them a few minutes longer in the oven. Both batches were fenomenal, but I prefer the second batch with a crisp texture (the ones in my pictures).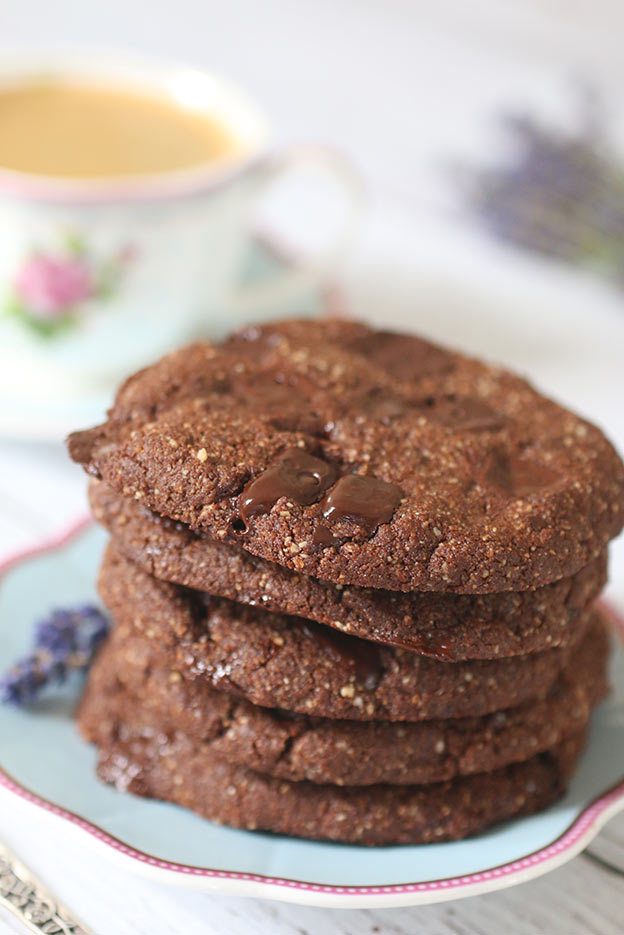 When you have a craving for a classic chocolate chip cookie, bake up a batch of these!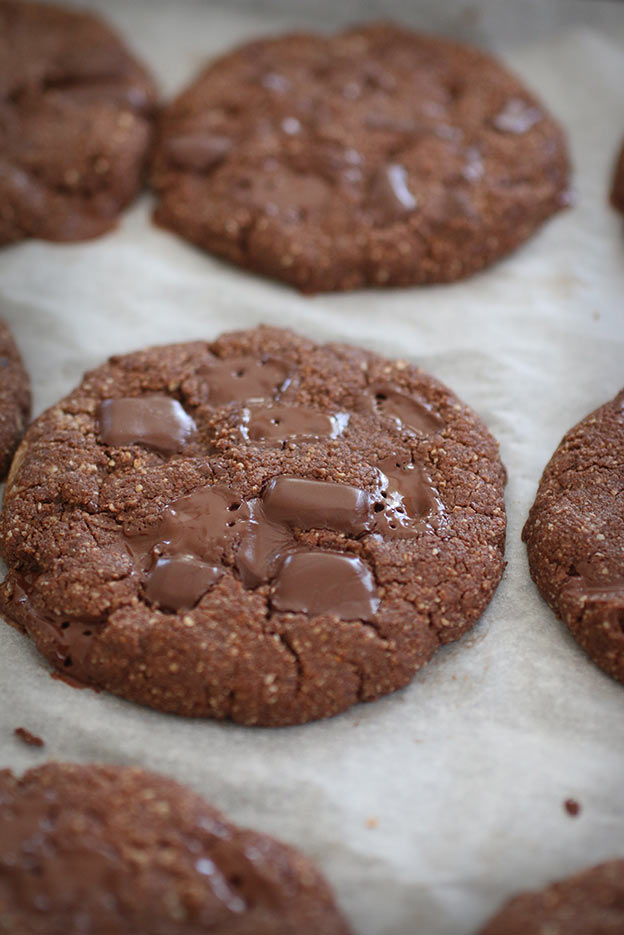 Recipe, Yield: 8 huge bakery-style cookies or 16 regular-sized cookies
Please read the footnotes at the bottom concerning substitutions.
Ingredients
1 cup (100 grams) almond flour
1/4 cup (32 grams) coconut flour
2-3 tablespoons cocoa powder
1 teaspoon baking soda
1/4 teaspoon salt
7 tablespoons (98 grams) coconut oil (if your coconut oil is a little melty, put it in the fridge for about 10-20 minutes or until firmer, like softened butter. If you use slightly melted coconut oil, the dough will be greasy and the chocolate chips will be hard to incorporate.)1 or unsalted butter2 , room temperature
1 cup coconut sugar or brown sugar
6 tablespoons (98 grams) natural almond butter (the kind with just almonds and salt), room temperature
1 1/2 teaspoons vanilla extract
1 large egg, room temperature (or 1 chia egg for vegan)
1 cup (170 grams) semi-sweet chocolate chips, divided (use paleo / dairy-free chocolate, if needed
Directions
In a medium mixing bowl, stir together the almond flour, cocoa powder, coconut flour, baking soda and salt. Set aside.
In a large mixing bowl with an electric hand mixer or using a stand mixer, beat together the fat and sugar at medium speed until well combined, about 1 minute. If you use coconut oil, it may not come together easily. If that's the case, use your hands to combine it and then beat another 20 seconds.
Beat in the almond butter and vanilla extract on medium speed and mix until combined. Beat in the egg on low and mix until well incorporated. Stir in the flour mixture until well combined. Then stir in 1 cup (170 grams) chocolate chips. If you used brown sugar, skip to the next step. If you used coconut sugar, place the bowl in the refrigerator for about 1 hour or until the dough is firm.
Preheat the oven to 350 °F (175 °C) and line a baking sheet with a piece of parchment paper.
Roll the dough into 8 (75-gram) balls and place the remaining 1/4 cup (43 grams) of chocolate chips on the top and on the sides of the dough balls. You can also roll them into 16 smaller balls but then you need to adjust the baking time (a few minutes less than recommended below). Place 4″ apart on the prepared baking sheet. Press the cookies down lightly with the palm of your hand.
Bake for 11-14 minutes (if using coconut sugar) or 14-17 minutes (if using brown sugar) or until the surface of the center of the cookies no longer appears wet. They'll be very soft but will continue to cook as they sit on the cookie sheet.
Let cool completely on the baking sheet. Store in an airtight container for up to 3 days.