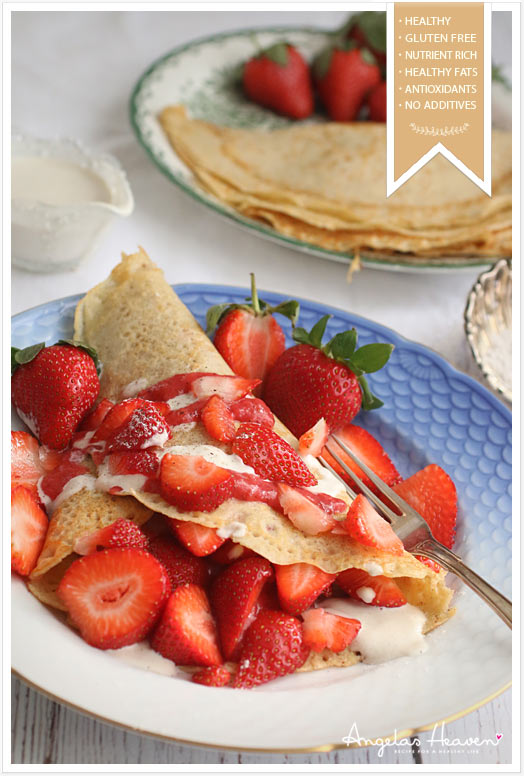 Healthy breakfast
Pancakes have always been one of my favorite foods and I'm so excited to share this recipe for gluten free thin pancakes with you. I've made LOTS of pancakes the last couple of weeks because I really wanted to get the recipe right.
Pancakes is not something you usually think of as nutritious food, but theese ones are filled with protein, healthy fats and fibers. To increase the nutritional power of this recipe, I used a combination of oat flour and rice flour and I've added more eggs to make the pancakes more satisfying. The oat flour has a high antioxidant content and a range of vitamins and minerals. The psyllium husk flour is important to give the pancakes a soft texture and it adds a lot of healthy fibers. (What is fiber husk flour? Read more about it here >>)
Raw vanilla sauce
I usually serve my pancakes with berries and sometimes I make my raw food vanilla sauce and pour over the pancakes. So delicious and so easy to make! Is there any better way to kick off a morning?
What you need for the pancakes: (serves  8)
1 cup +3/4 cups milk
3  eggs
6 tablespoons white rice flour
6 tablespoons oatmeal flour
0,5 tablespoons fiberhusk flour (What is psyllium Husk? Read more >> ) Buy it online here >>
1 teaspoon vanilla essence (optional)
A pinch of salt
How to make them…
In a large bowl, whisk in all of the ingredients in a bowl just until combined.
Use the batter immediately. The fiber husk flour will make the batter thicker and if you wait too long the batter will be too thick. If that happens you can add some water or milk.
Heat the pan over a moderate heat. Ladle some batter into the pan, tilting the pan to move the mixture around for a thin and even layer. If the pan is the right temperature, the pancake should turn golden underneath after about 30 secs and will be ready to turn. Quickly lift and flip it over. Cook for another 30 secs before turning out onto a warm plate. Continue with the rest of the batter, serving them as you cook or stack onto a plate.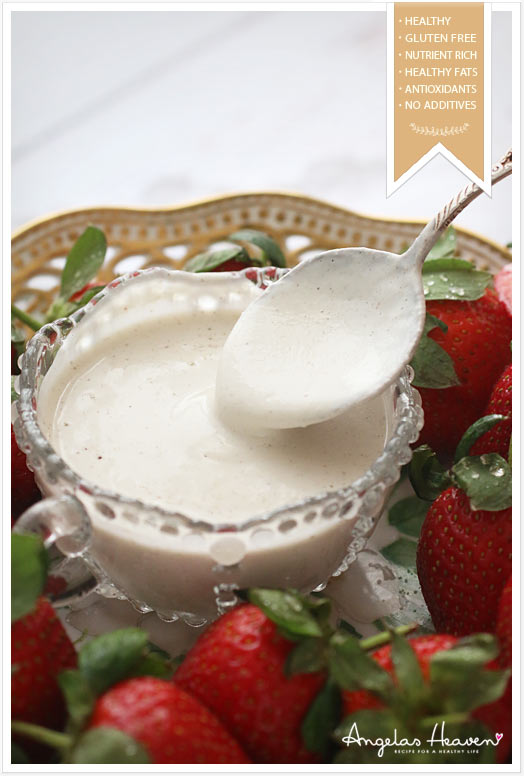 Raw vanilla sauce
Raw vegan vanilla sauce
Cashews are one of my favorite nuts. They are perfect for making creamy raw food cakes, sweet cashew milk and smoothies.  I always have them on hand at home. I soak a large batch and after 4 hours, rinse them and pop them in the freezer for future use. That way I always have soaked cashews ready to use when I need them. Why soaking nuts? Read more about the benefit of soaking nuts and seeds here >>
This cashew vanilla sauce takes just a minute to whizz together and is a fantastic staple to serve with desserts or use as a base for chia puddings.
What you need for the raw vanillla sauce:
1 cup natural, unsalted cashewnuts
1/2 cup water
2-3 teaspoons vanilla extract
Sweeten with 4 dates or 3 tablespoons of agavesyrup. Dates are more nutritious, but they will color the sauce and make it slightly brown. They both taste great!
How to make it:
If you have the time, soak the cashews.
If you don't, just put everything in your blender and blend at high speed until very smooth and creamy.
The vanilla cream will keep in the fridge for about 6 days.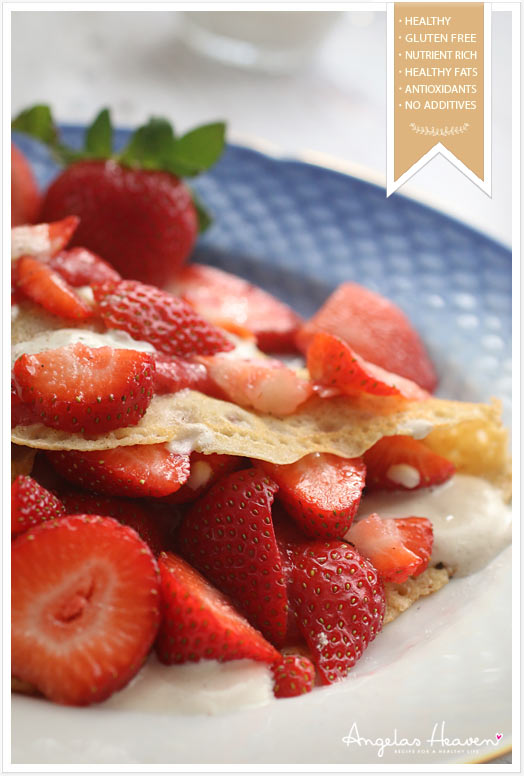 My favorite breakfast…pancakes with strawberries and raw vanilla sauce. Make lots of them…they're going to disappear fast….