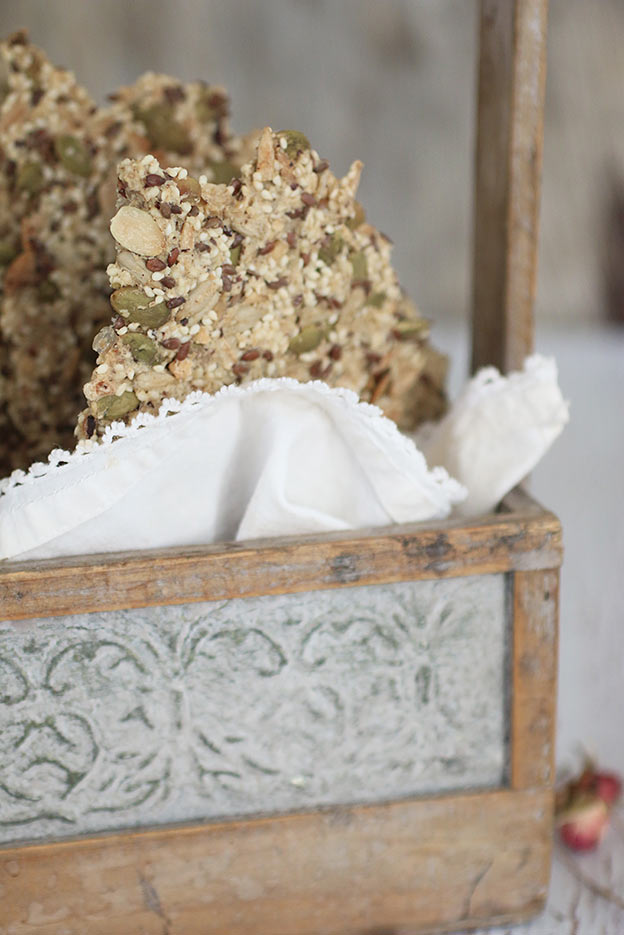 My favorite low carb crisp bread
Today I've spent some time in my kitchen making my favorite crispbread. I always keep a batch of these crispy snacks at home. I have a large glass jar at home in my kitchen on the counter and I like having a big piece of the crisp bread with mashed avocado, tomatoes, flake salt a cup of tea and. Crispbread is a crunchy, delicate platform for butter, cheese, hummus and anything at all savory. They are a superb crunchy accompaniment to soup, too. High in protein, healthy fats and fiber, these are a near-perfect snack. As a result they are extremely satisfying and great for your digestive system and will keep you feeling full for longer as all the fiber and healthy fats will have your body releasing the energy more steadily.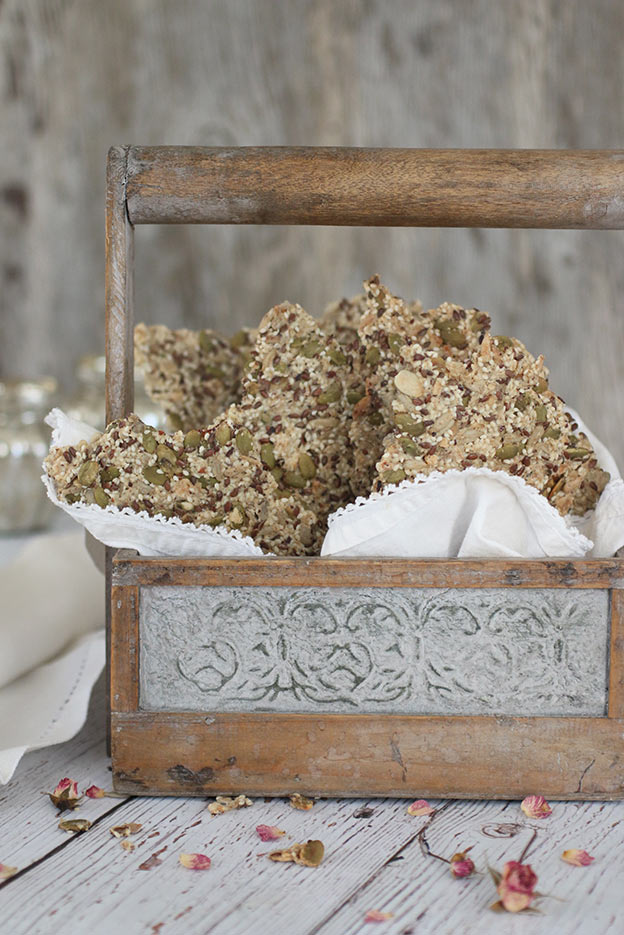 Recipe
Servings: 2 large baking trays
Crisp bread with peanut butter  & chia
1/2  cup sunflower seeds
1/2  cup hazelnuts
1/2  cup sesame seeds
1/2  cup almond flour (buckwheat flour is also ok)
3 tablespoons chia seeds
3/4 cup water
2 tablespoons peanut butter
0,75 teaspoon salt
Directions
Heat the oven to 175C/350F.
Put the chia seeds in the water and leave to sit for 20 minutes.
Chop the hazelnuts very fine with a knife or in a food processor.
Add all of the ingredients to a very large, spacious bowl. Stir very well. Squidge with your hands if needs be. The dough is very thick.
Take two sheets of parchment paper the same size as your baking trays.
Brush the parchment papers with oil or melted butter.
Place half the dough on each paper and use your hands to flatten out the dough as thinly as possible, patching inevitable tears with your fingers as needed. You can also use a spatula to get a smooth surface.
Sprinkle over flaky salt.
Bake in the oven for 20 minutes.
Remove from the oven and carefully flip each crisp bread.
Peel of the parchment paper and put the bread in the oven again for 15 minutes or until the bread is crisp and dry. (cooking time will depend on thickness of dough).
If the bread is still a little soft in the middle…turn off the oven and let the bread stay in the oven until it is crisp and dry.
Tips:
 If the crackers soften while storing (this can happen in humid environments), toast them in the oven on a baking sheet at 300ºF for 5 to 7 minutes. After cooling, this should return them to their former crispness!
The crispbread will keep for quite awhile once cooled completely and stored in an air-tight container. This recipe is easily doubled.