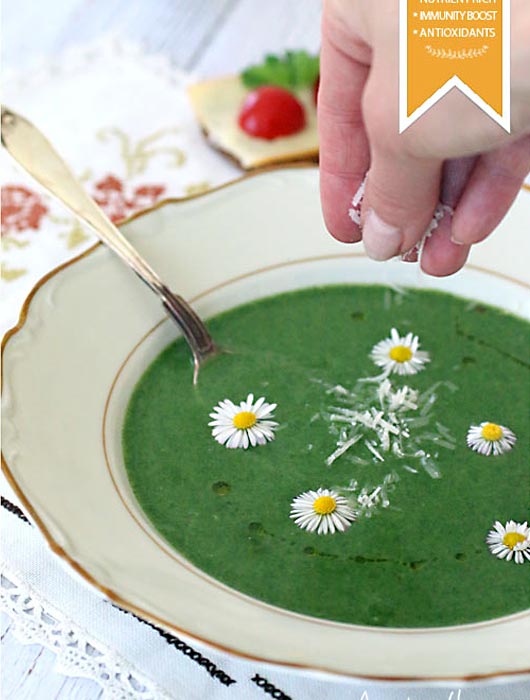 Nettle soup
I made nettle soup for the first time yesterday and it was delicious. It's really easy to make once you have the ingredients. Just boil and let it simmer for a few minutes. Blend and serve. A wonderful, healthy, satisfying green soup that will make your body so happy. Nettle is highly nutritious and you can find it almost everywhere. If you have a pair of gloves I recommend that you go out and pick some for you dinner today. Right now is the perfect time for harvesting the nettle while the leaves are young and tender. You can blanche them and put them in your freezer or dry them so you can enjoy them all year around.
I was so inspired yesterday after reading recipes with nettle that I picked a whole bag with leaves and both blanched and dried for making different recipes. Today I think I'll try making nettle tea and then I want to try making nettle oil. It's been used for many years for healthy hair and regrowth of hair. I'm curious. I have to try it. I'll let you know later if it worked.
Nettle is highly nutritious
The plant has been part of herbal medicine for centuries. Practitioners of herbal medicine have recommended stinging nettle as a treatment for the pain of arthritis and gout, allergies and urinary problems or as a topical treatment for eczema, insect bites and painful muscles, to detoxify the body, improve metabolic efficiency, boost immune health, increase circulation, improve energy levels, manage menstruation, minimize menopausal symptoms, heal skin conditions, protect kidney and gallbladder health, lower inflammation, increase muscle mass, regulate hormonal activity, prevent diabetes and lower blood pressure.
Nettle's iron content makes it a wonderful blood builder, and the presence of vitamin C aids in the iron absorption. It's an excellent herb for anemia and fatigue, especially in women. Stinging nettle is beneficial during pregnancy due to its rich mineral value and vitamin K, which guards against excessive bleeding.  It's also a good supplement to strengthen the fetus.
How to pick nettles without getting stung
Using a glove and knife, gather the young, tender plants in April or May when they're about six inches tall. As soon as the plant flowers, the leaves become bitter. Therefore pick nettles when they're young and harvest just the top four inches of the plant. Make sure you don't pick them in an area that has been exposed to pesticides, herbicides, or pollution. It's also important to avoid areas that may have been treated with nitrogen fertilizers, as nettles grown in such areas may have accumulated excessive amounts of harmful nitrates.
Pick in quantity when you find them and then either steam and freeze them or dry them. You can put them in soups, stews, and other dishes. Once you've cooked or dried them the stingers are deactivated and the plant becomes edible.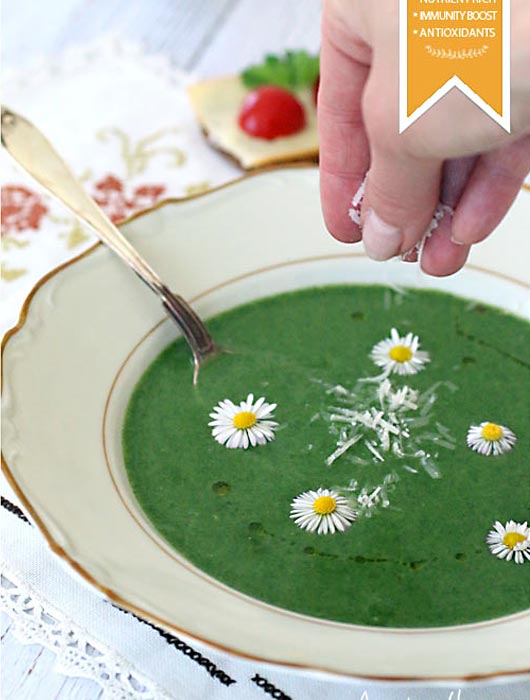 How to to prepare nettles for freezer:
Fill a colander with the amount of nettle you think you will use for a typical dish.
Wash the nettles.
Boil a pot of water that is large enough to submerge the nettles.
Steam or boil nettles until just cooked.
Remove them nettles from the water with a spoon and submerge in a bowl of cold water to stop the cooking process.
Let drain a minute and then place in a freezer bag.
Start your next batch in the boiling water and repeat.
Do not throw away the water you cooked the nettles in.  It makes delicious tea or vegetarian stock. Freeze it in cubes and use within a year.
---
Nettle Soup Recipe, 2 servings
5 cups fresh stinging nettle
1 onion, peeled and chopped (3/4 cup)
1/2 cup cream
1,5 cups water
1,5 tablespoons dried vegetable broth
0,5 teaspoon sambal oelek
2 tablespoons grated parmesan cheese…and some extra for topping.
Directions
Wash the fresh nettles thoroughly and discard the tougher stalks.
Bring a large pot of water to a boil.
Drop in the stinging nettles, and cook 1 to 2 minutes until they soften.
Drain in a colander.
In a large pot, heat oil over medium-low heat and stir in the onion. Cook, stirring occasionally, until the onions are soft, about 3 minutes.
Add the water, cream, sambal oelek, vegetable broth, parmesan cheese and nettles and simmer until they're tender, about 10 minutes.
Puree the soup with an immersion blender and season to taste with salt and pepper.
Serve in warmed bowls, topping each portion with a generous sprinkling of parmesan cheese.