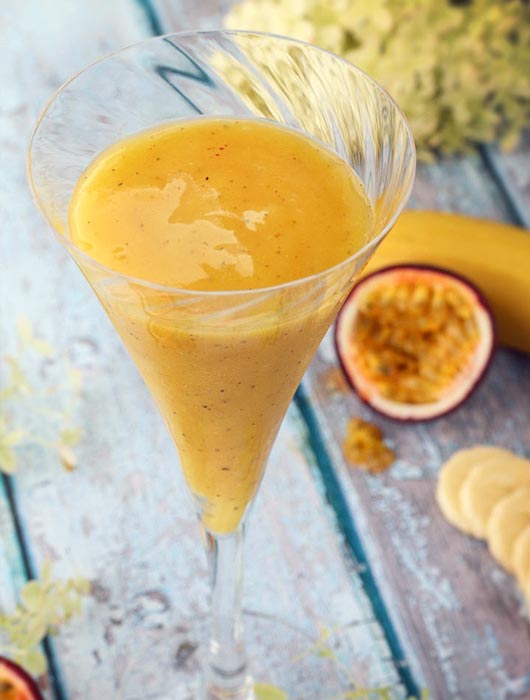 This mango smoothie is is so good. It´s super creamy with a consistency like ice cream and it will only take you 5 minutes to whip up from start to finish.
I love mangoes. They are my favorite natural sweetener and base in my smoothies. I always have a couple of packages with frozen mango chunks in my freezer. They make a creamy, sweet base for all smoothies and a lovely frothy, thick texture. Smoothies are a great place to hide nutritious greens. Add a handful baby spinach (which has a very mild flavor) to this smoothie to get an even more nutritious smoothie. It´s one of my daughters favorite smoothies.
To make this recipe more protein potent and satisfying, try adding chia seeds. Chia seeds are a protein-packed wonder food with complete protein, containing all of the essential amino acids and lots of Omega-3s.
Vary this smoothie by substituting the frozen mango with peaches.
Mango Nutrition and Health Benefits
Mangoes are a super fruit high in dietary fiber as well as vitamins A (as beta-carotene), B6 C, E and K. Mangoes are also a good source of potassium, copper, amino acids and omega-3.
Recipe
1 cup frozen mango chunks
1/2 cup fresh pineapple
1/2 passionfruit
1-2 dates
Directions…
Place all of the ingredients in a blender and blend until smooth. Pour in a glass and Serve immediately.
Put all the ingredients into a food processor or blender, then process until smooth and thick.
Pour smoothie into glasses and serve.
Enjoy!