Easy gluten free/flour free bread recipe
If you are on a gluten-free diet then I'm sure you know one of the hardest things to find is good gluten-free white bread. This bread is so good. I have tried many, many gluten free recipes and most of the time the texture turnes out to be spongy, rubber like or dense. This bread has a texture that reminds me of sponge cake. I know… it sounds strange, but it's really nice. Fluffy and moist!
Not only is this gluten free bread delicious. It's easy to make and comes out perfectly every time. There's only 7 ingredients, no resting, no rising.  Just mix in a bowl, pour, bake, slice, enjoy! Declisious, simple, and nutritious. I found it on one of my favorite Swedish blogs – Scandinavian wellness. Ann-Catrin has so many inspiring, beautiful recipes on her blog. Check it out here >>
I can easily eat a whole loaf of this bread by myself in one week. I love enjoying it with a slice of cheese or just as it is, but if you're not so keen on eating it all in one week, you can easily freeze this for later. To freeze, I recommend allowing the bread to completely cool, slice, then lay each sliced in a single layer in an airtight glass container.
1 bread á 22 slices (1 kh per slice)
1 1/2 cups + 2 tbsp almond flour
5 tbsp sesame seeds
5 tbsp of psyllium husk powder (What is psyllium Husk? Read more >> ) Buy it online here >>
2.5 tsp baking powder
5 Eggs
1/3 cup (75 grams) of melted butter or coconut oil
3/4 cup creme fraiche* (For milk-free – use coconut cream)
1/2 cup yogurt* thick, full fat, naturell. (For milk-free – use coconut cream)
*You can replace creme fraiche with yoghurt or replace yoghurt with creme fraiche.
Directions:
Grease a medium loaf pan with an optional fat.
Pour in sesame seeds and shake until the sides are covered.
Preheat the oven to 400 F (200) degrees
Mix together the dry ingredients.
Stir in egg + crème fraiche + Turkish yogurt.
Throw in the melted butter / coconut oil and stir well.
Work quickly and spread it evenly in the form.
Put the bread in the oven for about 35 minutes.
Let cool slightly before cutting into it.
This almond flour bread may be the best low carb bread recipe yet!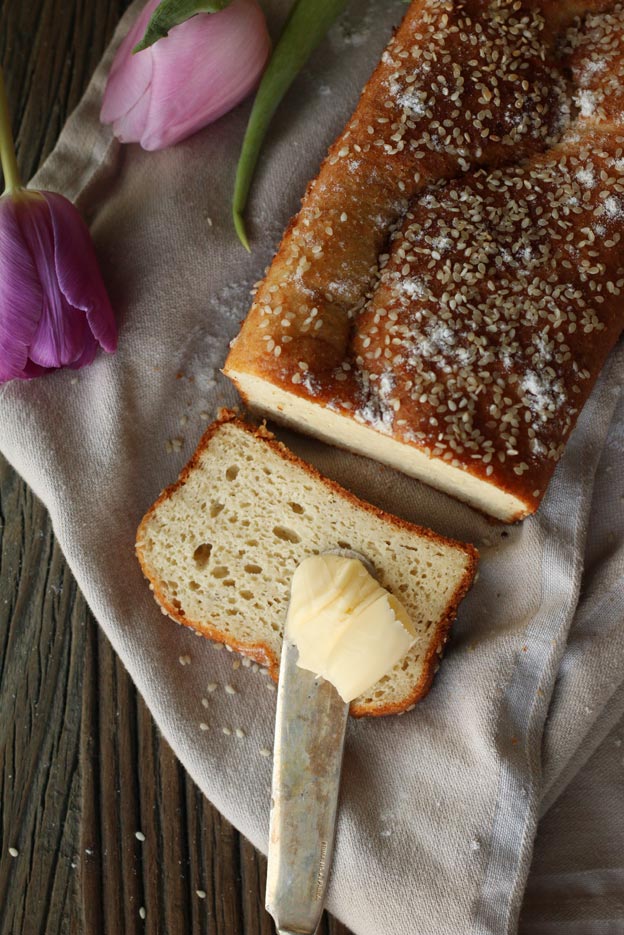 This is so good to eat with some butter on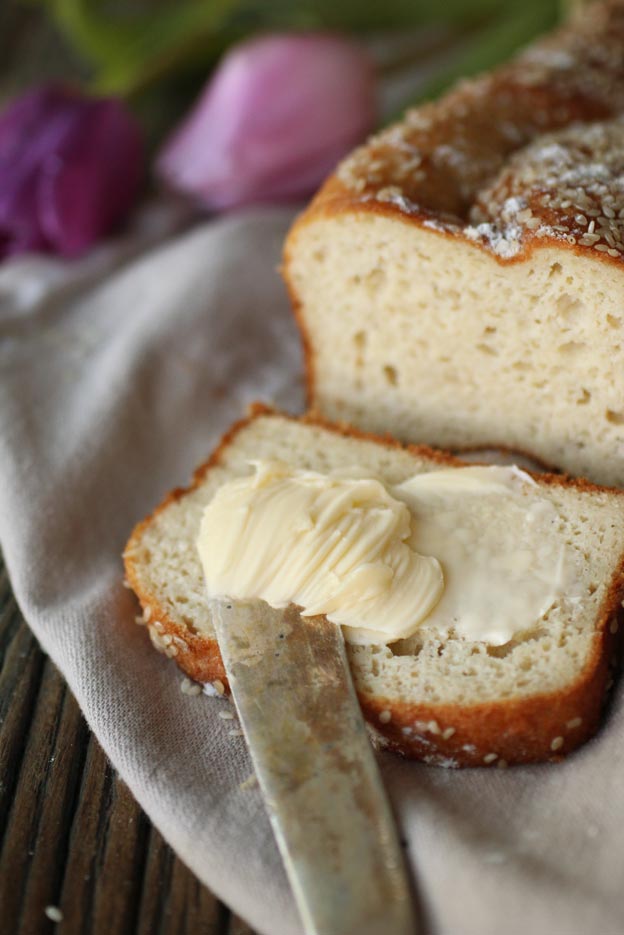 YOU MAY ALSO BE INTERESTED IN: