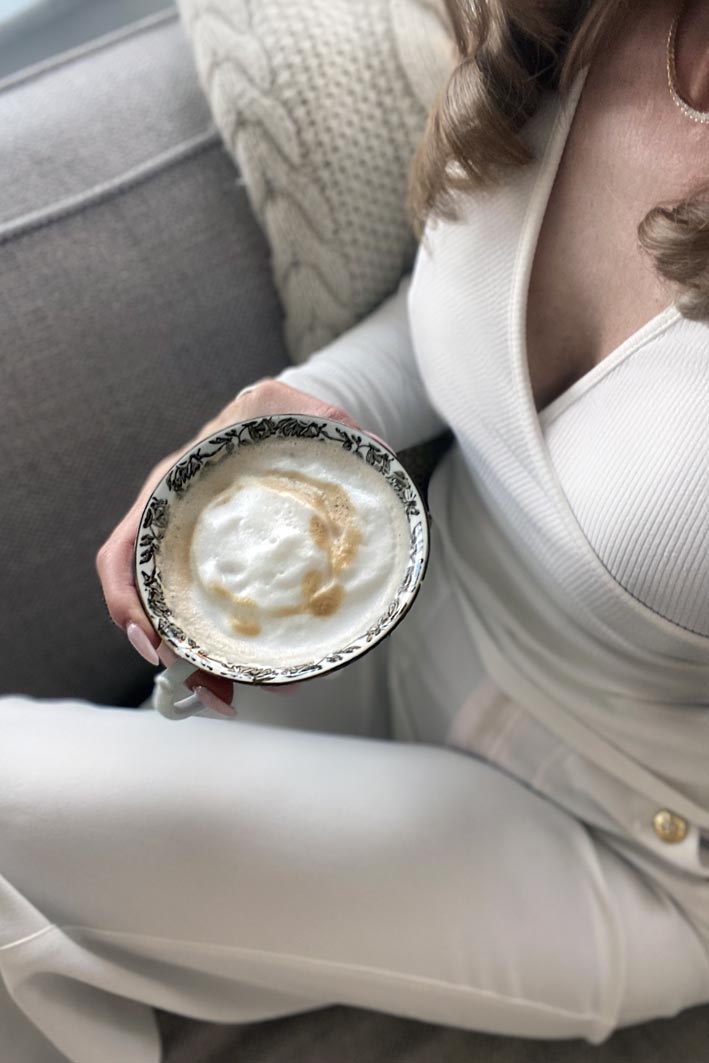 Coffee break! I just had a little pause in my work. I sometimes find it difficult to take those moments to just be and enjoy the moment. I find it easier to just do everything I'm supposed to do. Check everything on my list and by the time I'm finished in the evening I'm exhausted.
You need to take a break sometimes and enjoy the moment. I'm practicing getting better at it. I'm not sure why I find that difficult, but for me working is easier than relaxing.
The best way to become more positive and get more of what you want
I have my 20-30 minutes in the morning, right after I've got out of bed. I put on some positive music and sit down on my couch to visualize and affirm. That's one of my favorite parts of the day. The perfect way to start the day. That way I never have time to start thinking about anything negative. I start every day visualizing about my dreams and goals and I make them so real in my mind that I can smell, feel and touch them. As if it was actually a reality right now.
You decide what you want to focus on
Starting your day like this with a positive mindset will make your whole day much better. It's something you can practice and you will get better at it as you keep doing it. Your mind will get used to the new thoughts and images and it will start looking for new things to think about that matches what you have been visualizing about. Your mind is very flexible and it can either stay more or less the same forever if you don't make any changes or you can mold it into whatever you want. It's a decision. You decide what you want to focus on. The positive things or the more negative things.
Your brain will listen to what you are saying and it will adapt
It will follow your lead. If you focus on what makes you upset and worried it will assume that this is what you want more of and it will give it to you. This is a system in your brain that is awake 24/7. It's called RAS. It observes what you are focusing on and it gives you more of the same kind of information.
Its impossible for us to observe and take in ALL of the information around us. We can only consciously observe a very small part of the information that we are bombarded with daily from TV, news, the environment we are living in and so on. RAS chooses for you what information you will consciously receive and YOU are the one who decides what kind of information RAS will give you.
If you want more of the good stuff that makes you happy…
…you need to tell your brain that this is what you want. You can't talk and reason with your brain. It won't understand if you say – Hey Brain….I want more of the good stuff. I really need it right now." It won't listen to that. It can't. It can only observe what you are focusing on and by doing that it chooses to give you more of whatever it is you think of most of the time.
What are you focusing on most of the time? What do you want more of? Do you focus on what you want and is it positive thoughts that makes you feel good or thoughts and feelings of lack?
If you think this is interesting and want to know more – leave a comment down below and let me know. I will write more about this soon.
Wishing you a great day,
Angela